Attack of the Killer Tomatoes! ** (1978, David Miller, George Wilson, Sharon Taylor) – Classic Movie Review 3948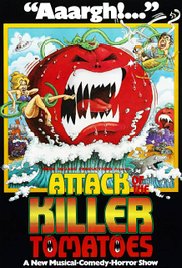 Co-writer/ director John De Bello's cheap (budget of $90,000) and trashy 1978 horror movie is an energetically silly spoof of sci-fi cult films. It stars David Miller, George Wilson and Sharon Taylor. They advertised it as 'You've never seen a film like it' and for once they weren't exaggerating.
The screenplay by De Bello, Costa Dillon and J Stephen Peace follows the sorry story of the titular mutated normally docile vegetables terrorising the city, as a special government task force bands together to try to save the world from the violent veggies.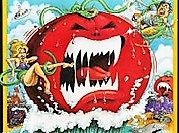 Attack of the Killer Tomatoes is now a cult film itself, much revered in worst film lists. Though it doesn't really have too much more than the single joke of its concept to offer, it is still mostly funny (often unintentionally) and occasionally even hilarious. And it certainly is a killer title.
Also in the cast are Rock Peace [J Stephen Peace] as Lieutenant Wilbur Finletter, doing all of his own stunts, Eric Christmas, Jack Riley, Ron Shapiro, Al Sklar, Jerrold Anderson, Don Birch and Ernie Meyers as The President.
It runs  director's cut.
The sequel, Return of the Killer Tomatoes! (1988), is also directed by De Bello.
© Derek Winnert 2017 Classic Movie Review 3948
Check out more reviews on http://derekwinnert.com