Attack of the Giant Leeches * (1959, Ken Clark, Yvette Vickers, Bruno VeSota, Tyler McVey, Jan Shepard ) – Classic Movie Review 3912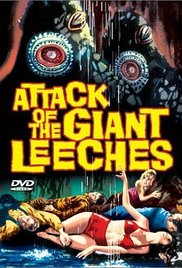 'Fear will pierce your flesh… Until every nerve in your body… EXPLODES!' Yes, but not all American International Pictures executive producer Roger Corman and producer Gene Corman's movies have mitigating factors.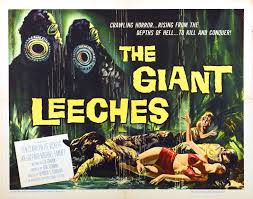 Director Bernard Kowalski's $70,000 1959 sci-fi horror movie, also known as Demons of the Swamp, is poor, cheap stuff about a backwoods game warden called Steve Benton (Ken Clark) and a doctor (Tyler McVey) discovering giant leeches are responsible for disappearances and deaths in a Southern swamp.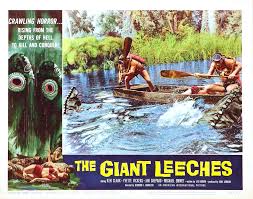 Unfaithful wife Liz Walker (Yvette Vickers) and her lover Steve (Ken Clark) end up abandoned by her irate bar-boss husband Dave (Bruno VeSota) in the swamp full of the bloodsucking monsters.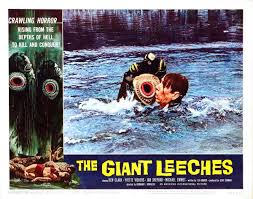 Actor Leo Gordon is responsible for the silly screenplay.
Also in the cast are Gene Roth, Jan Shepard, Michael Emmet, Dan White and George Cisar.
It was remade in 2008.
© Derek Winnert 2016 Classic Movie Review 3912
Check out more reviews on http://derekwinnert.com