Attack of the Crab Monsters ** (1957, Richard Garland, Pamela Duncan, Russell Johnson) – Classic Movie Review 3913
Director Roger Corman's early 1957 monster movie is only his second sci-fi film, provided lots of simple fantasy entertainment in its day and is now a small cultish item. It stars Richard Garland and Pamela Duncan and Russell Johnson.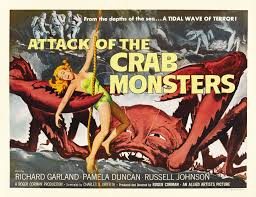 Charles B Griffith's screenplay follows the story of huge, intelligent, mutant, brain-eating crabs – the result of nuclear weapons tests – inconveniently causing landslides and attacking humans on a shrinking remote Pacific island. A group of scientists get stranded on the island when their airplane explodes, and, what with the monster crabs and the island is slowly sinking into the ocean, they're between a rock and a hard place.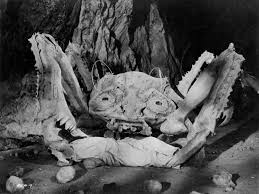 As usual with Corman, it was quickly made (in 10 days) and ultra-cheap ($80,000) but it is still very cheerful, thanks to the inventive script and the Corman's air of bemused cynicism.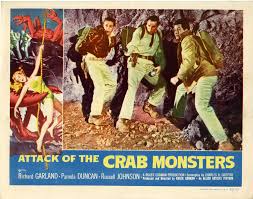 Corman: 'The most successful of all the AIP (American International Pictures) horror movies. I have to admit its title had a lot to do with the film's success.'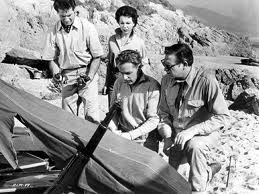 Also in the cast are Leslie Bradley, Mel Welles, Richard H Cutting, Tony Miller, Ed Nelson, Charles B Griffith and Beach Dickerson.
© Derek Winnert 2016 Classic Movie Review 3913
Check out more reviews on http://derekwinnert.com