Attack of the 50 Foot Woman *** (1958, Allison Hayes, William Hudson, Yvette Vickers) – Classic Movie Review 4345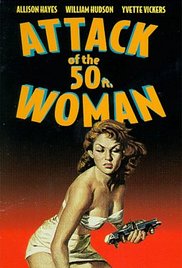 Allison Hayes stars as beautiful, rich, bikini-clad socialite Nancy Archer who closely encounters a bald-headed, transparent alien, who turns her into a giantess. This turns out to be a mixed blessing.
This tall story is a case of Fifties schlock meets pro-feminist statement as our heroine goes off in search of her cheating husband Harry (William Hudson) who is busy chatting up town floozy Honey Parker (Yvette Vickers, Playmate of the Month in the July 1959 Playboy).
This fondly regarded movie, billed as 'terrifying masterpiece of shock and chills', is overladen with loads of laughs at the silly trick work and daft dialogue that make it unmissable 'so-bad-it's-good' campy cult classic B-movie entertainment.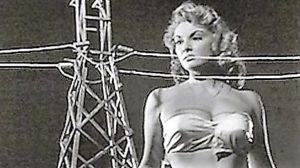 Also in the cast are Roy Gordon, George Douglas, Ken Terrell, Frank Chase, Mike Ross, Eileene Stevens and Otto Waldis.
Director Nathan Juran (or Hertz as he was then billed) was also the man behind The Brain from Planet Arous and the Ronald and Nancy Reagan sort-of classic, Hellcats of the Navy. Remade in 1993 as Attack of the 50 Ft Woman with Daryl Hannah and Daniel Baldwin.
The 2009 Dreamworks animation Monsters vs Aliens uses it for inspiration.
In 1959 Vickers played the role of Liz Walker in Attack of the Giant Leeches.
© Derek Winnert 2016 Classic Movie Review 4345
Check out more reviews on http://derekwinnert.com