Atom Man vs. Superman *** (1950, Kirk Alyn, Noel Neill, Lyle Talbot, Tommy Bond, Pierre Watkin) – Classic Movie Review 2245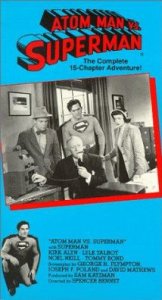 Director Spencer Gordon Bennet's 1950 comic book adventure reunites him with Kirk Alyn as Clark Kent aka Superman, Noel Neill as Lois Lane, Tommy Bond as Jimmy Olsen and Pierre Watkin as editor Perry White in this highly entertaining and gratifyingly daft 15-part serial sequel to the 1948 serial Superman.
Alyn's Superman is back to battle evil Lex Luthor (Lyle Talbot), who has turned up again, this time with a new identity as Atom Man and is using a teleportation device in his criminal plans and is trying to make Kryptonite to end Superman's mighty powers.
Hugely busy and fast-moving, Atom Man vs. Superman is lots of entertaining old-style comic book fun based on the immortal characters created by Joe Shuster and Jerry Siegel. Serials were immensely popular in their day and this was the Columbia studio's 43rd serial.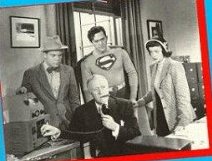 Also in the cast are Don C Harvey, Terry Frost, Rusty Wescoatt, Jack Ingram, Fred Kelsey, Paul Stader, George Robotham, John Zaremba, Wally West, Stanley Blystone, Gloria Blondell, Frank Ellis, William Fawcett, George Meeker, Eddie Parker, Hugh Posser, Rick Vallin and George Morrell.
George Reeves takes over from Kirk Alyn as Superman/Clark Kent and Phyllis Coates takes over from Noel Neill as Lois Lane in the first Superman cinema feature, Superman and the Mole Men (1951). Reeves and Coates went on to do the TV series Adventures of Superman (1952- 57), but Coates left the series in 1953 to be replaced by her predecessor Neill.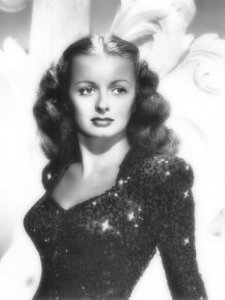 Poignantly, Alyn and Neill play young Lois's dad and mum in the 1978 Superman. And Neill plays Gertrude Vanderworth in Superman Returns in 2006. In 2015, she's 94 and playing Aunt Lois in the TV movie Surge of Power: Revenge of the Sequel.
Noel Neill died on 3 July 2016 in Arizona after a long illness, aged 95.
© Derek Winnert 2015 Classic Movie Review 2245
Check out more reviews on http://derekwinnert.com/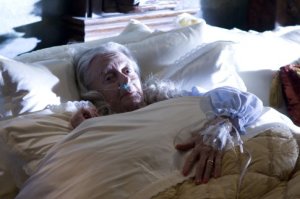 Neill plays Gertrude Vanderworth in Superman Returns.