Athena ** (1954, Edmund Purdom, Jane Powell, Debbie Reynolds, Louis Calhern, Evelyn Varden, Vic Damone, Steve Reeves) – Classic Movie Review 6122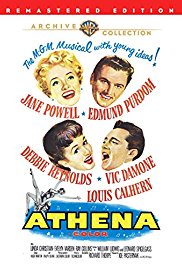 Director Richard Thorpe's 1954 MGM musical is pretty thin and insubstantial, but at least is quite lively and provides something different in the way of entertainment.
English actor Edmund Purdom plays Adam Shaw, a nice young American lawyer who falls for Athena Mulvain the eldest of seven sisters, members of a high moral California cult, while singer Johnny Nyle romances Minerva.
Jane Powell as Athena Mulvain, Debbie Reynolds as Minerva Mulvain, Louis Calhern as Grandpa Ulysses Mulvain, Evelyn Varden Grandma Salome Mulvain and Vic Damone as Johnny Nyle give bright co-starring turns. But Hugh Martin and Ralph Blane's songs aren't up to too much.
Steve Reeves, the champion body builder with the 52in chest and 18in biceps, plays Jane Powell's boyfriend. Reeves and the Mr Universe contest towards the end of the movie provide the odd diversion.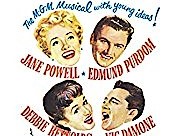 Also in the cast are Linda Christian as Beth Hallson, Virginia Gibson as Niobe Mulvain, Nancy Kilgas as Aphrodite Mulvain, Dolores Starr as Calliope Mulvain, Jane Fischer as Medea Mulvain and Cecile Rogers as Ceres Mulvain, with Ray Collins, Carl Benton Reid and Howard Wendell.
The writers are William Ludwig and Leonard Spigelgass, it is shot in Eastmancolor by Robert Planck, produced by Joe Pasternak, and scored by George Stoll.
It ran original release but was later cut to 
Italian film director Pietro Francisci saw Steve Reeves in this and persuaded him to go to Italy to star in Hercules (1958).
© Derek Winnert 2017 Classic Movie Review 6122
Check out more reviews on http://derekwinnert.com