Assault on Precinct 13 ***½ (2005, Ethan Hawke, Laurence Fishburne, Gabriel Byrne, Ja Rule, Maria Bello, Drea de Matteo, Brian Dennehy, John Leguizamo) – Classic Movie Review 4353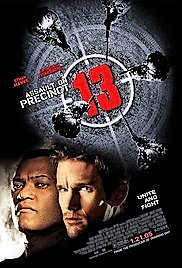 After Training Day (2001), Ethan Hawke again proves he can play a tough cop as Sgt Jake Roenick, the useful hero of this brilliantly tense action thriller. It is a poundingly full-on and strikingly well-filmed if ultimately disposable remake of John Carpenter's spellbinding 1976 movie about a gang besieging a police station.
Gabriel Byrne makes a splendidly nasty villain as Captain Marcus Duvall trying to free Marion Bishop (Laurence Fishburne) from a jail cut off by a New Year's Eve snowstorm. The excellent cast is a starry bunch of B-listers, nicely fleshing out the script's stereotypes, and the film does full justice to the pulp B-movie feel of the original, bringing it neatly up to date.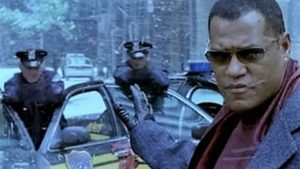 It is a surprise success, though the key explanation of how the cops in 2005 can't use phone, radios or mobile phones to summon help is painfully lame.
It also stars Ja Rule, Maria Bello, Drea de Matteo, Brian Dennehy, and John Leguizamo.
Also in the cast are Peter Bryant, Fulvio Cecere, Matt Craven, Courtney Cunningham, Hugh Dillon, Tig Fong, Darren Frost, Jasmin Geljo, Currie Graham, Jessica Greco, Dorian Harewood, Robert Hayley, Aisha Hinds, Titus Welliver, Ed Queffelec and Sasha Roiz.
James DeMonaco writes the screenplay, adapting the original John Carpenter one from the earlier film. Hawke teamed up again with DeMonaco for The Purge in 2013.
© Derek Winnert 2016 Classic Movie Review 4353
Check out more reviews on http://derekwinnert.com