Apocalypse Now ***** (1979, Martin Sheen, Dennis Hopper, Marlon Brando, Robert Duvall, Sam Bottoms, Laurence Fishburne, Frederic Forrest) – Classic Movie Review 344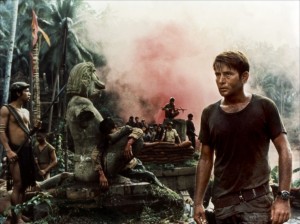 Co-writer/ director Francis Ford Coppola's incredibly ambitious, wildly extravagant ($31million) epic brilliantly reworks Joseph Conrad's novel Heart of Darkness as an examination of the absurdities and madness of the war in Vietnam. Coppola is working on an idea and screenplay by John Milius, written back in 1969 as The Psychedelic Soldier, and originally intended as a George Lucas film project. The script's narration is by Michael Herr.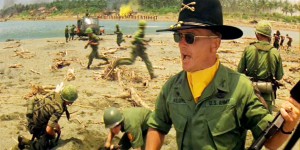 Despite all the troubles and disasters of its filming back in 1976, this emerged on release as one of the all-time greats, and that's especially true in the long-form Redux version. But the original release version, at 153 minutes, feels obviously truncated. You know it's been hacked back, you can feel it. It's fantastic but it seems like a flawed masterpiece. The dramatic arc doesn't work quite right and characters are lost and others disappear too early.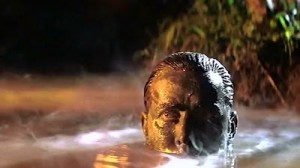 But the brilliant 202-minute Redux version in 70mm and Dolby stereo is the real deal. It's a stunning experience, one of the greatest in all the movies. Re-edited by Coppola and Walter Murch and with new a Technicolor print, it debuted in 2001 at the Cannes Film Festival to triumph. The restored footage also includes the French plantation scenes with Aurore Clement and Christian Marquand, as well as crucial scenes as the crew meet the Playmate girls later on.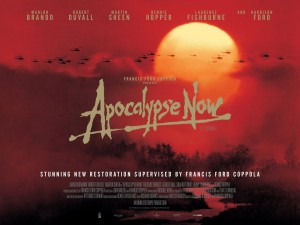 Martin Sheen (replacing Harvey Keitel who was sacked by Coppola two weeks into shooting) stars as US army Captain Willard who is sent by Colonel Lucas (Harrison Ford) and General Corman (G D Spradlin) on a dangerous mission to assassinate renegade Green Beret Colonel Walter Kurtz (Marlon Brando), who has set himself up as a god among a local tribe. Kurtz's army has crossed the border into Cambodia and is conducting hit-and-run missions against the Viet Cong. The army believes that Kurtz, one of the most decorated officers in the U.S. Army, has gone insane, but the mission to kill him, officially, 'does not exist – nor will it ever exist'.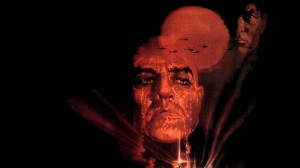 So Willard has to undertake a desperately perilous ride with a small crew up the Nung River on a U.S. Navy patrol boat into Cambodia. The boat crew meets up with mad surfer Lieutenant Colonel Kilgore, head of a U.S Army helicopter cavalry group ('I love the smell of napalm in the morning.')  In various scary encounters, some of the crew are killed, but Willard, Lance (Sam Bottoms) and Chef (Frederic Forrest) reach Colonel Kurtz's outpost, beyond the Do Lung Bridge, where they become Kurtz's prisoners.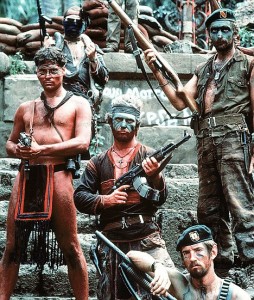 This is a truly marvellous movie, with many, many dazzling ingredients, though not least among its triumphs are the helicopter attack on a Vietcong village to Wagner's 'Ride of the Valkyries', the  memorable performances from Sheen, Duvall as the crazed, surfing-obsessed Kilgore, Forrest as Chef, Bottoms as Lance, Dennis Hopper as a photo-journalist a very young Laurence [Larry] Fishburne as Clean. Only 14 at the start of production, Fishburne lied about his age to get the role.
Above everything, perhaps, towers cinematographer Vittorio Storaro's glorious imagery, shot in inspired style on location in the Philippines. Many of the images are among cinema's most striking. This is one hell of a dazzling looking film, with everything done for real in the pre-digital era.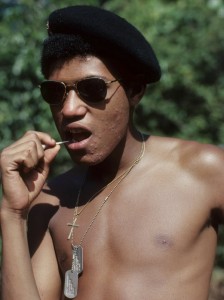 To quibble, Brando's mumbling performance in the shadows, does irritate a little. He was paid $1 million in advance but threatened to quit and keep his advance anyway. But he eventually turned up late, drunk, 40kg overweight, and admitted he hadn't read the script or even Heart of Darkness. He then read Coppola's script, and refused to do it.
Coppola spent days on set reading him the novel. After days of arguments over single lines of dialogue, an ad-lib style script was agreed upon, and this was shot according to Brando's stipulations that he appears in shadows. Kurtz had been written as a tall but starvingly thin man, so Coppola filmed him as immensely tall and avoided including his huge belly in shots.
Top-billed Brando does not appear until more than two and a half hours into the Redux version and his total appearance time is only 15 minutes. He was on set for only six weeks. It's the climax to the film and the quest, so it has to be special. And it is, but in a only weird way. Brando does however manage to suggest a man who has gone completely insane. It's a very strange, unsettling appearance, heavily edited, and it somehow squeezes by on sheer oddness, but 15 minutes is enough.
Nevertheless, even Marlon's incoherent mumbling of his own improvised lines ('You're an errand boy, sent by grocery clerks, to collect a bill') does not spoil things. It just adds to the myth. For this is unchallenged as a brilliant Seventies masterwork, directed by an inspired and obsessed Coppola with all the astonishing force and brio of a man desperately trying to bring a sinking ship home to safety.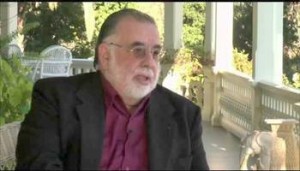 Coppola: 'This isn't a film about Vietnam, this film is Vietnam.' It was shamefully out-manoeuvred by Kramer vs Kramer on Academy Award night and there were only two Oscars – for cinematography and sound. It won the Palme D'Or at Cannes 1979 but the prize was shared with The Tin Drum.
The film's troubled story (a typhoon destroyed sets, causing a delay of several months) is told in the almost equally brilliant documentary Hearts of Darkness: A Film-Maker's Apocalypse, made by Coppola's wife Eleanor. The planned six week shoot ended up taking 16 months and Coppola shot nearly 200 hours of footage. Coppola had to mortgage his house and invest several million dollars of his own money to finish the film after it went severely over budget.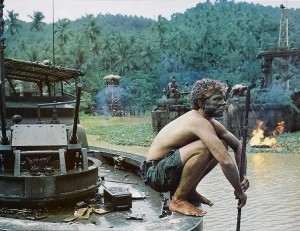 In a role turned down by Steve McQueen and Al Pacino, Sheen had a heart attack during the filming and some shots of Willard's back are of doubles, including Sheen's brother Joe Estevez. He was flown out specially and he later stood in vocally for his brother on some of the voiceover.
The Philippines President Ferdinand Marcos agreed to let his army supply the helicopters and pilots used in the film. This is crucial to the movie's success.

Michael Herr, author of the Vietnam War memoir Dispatches and Oscar-nominated contributor to Apocalypse Now and Stanley Kubrick's Full Metal Jacket — died on 23 June 2016 after a lengthy illness, aged 76.
http://derekwinnert.com/milius-film-review/ http://derekwinnert.com/the-godfather-classic-film-review-2/
© Derek Winnert 2013 Classic Movie Review 344 derekwinnert.com
Link to Derek Winnert's home page for more film reviews: http://derekwinnert.com/