Any Which Way You Can **½ (1980, Clint Eastwood, Sondra Locke, Ruth Gordon, Geoffrey Lewis, Harry Guardino, Glen Campbell, William Smith) – Classic Movie Review 4105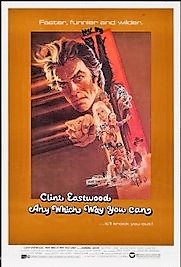 Director Buddy Van Horn's ragged but lusty 1980 action adventure is the hasty sequel to Clint Eastwood's surprise 1978 hit Every Which Way But Loose. It finds the ever-popular star going any which way he can for easy laughs and thrills, and delivering enough of each to make the movie worthwhile.
Lovely Ruth Gordon as Clint's Ma and Clint's pet orangutan Clyde remain above criticism and beyond reproach. Both of them are adorable oddballs. Clint reprises his role as the bare-knuckle boxer Philo Beddoe, so fisticuff and car crash fans are taken care of, and appealing co-star Geoffrey Lewis returns as Orville. But the movie is even broader, slacker and less amusing than the original.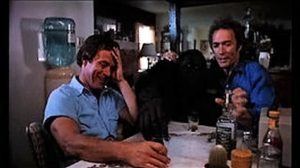 Sondra Locke as Lynn, the country singer, and most of the original cast are back – with a few additions – Harry Guardino, Glen Campbell (as himself), Anne Ramsey, Logan Ramsey, Barry Corbin, Bill McKinney, Michael Cavanaugh, Roy Jenson, Al Ruscio, Dan Vadis, William O'Connell, John Quade, Camilla Ashland, Dick Christi, Rebecca Clemons, George Murdock and Jim Stafford.
William Smith is very rough and ready as the street-fighter Jack Wilson, but he is memorable in the final bout with Clint.
Stanford Sherman carves out the screenplay, based on the original film's characters by Jeremy Joe Kronsberg.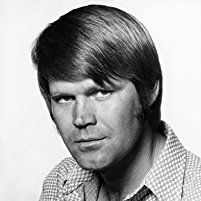 Remembering Glen Campbell: 1936 to 2017. He died on 8 August 2017 in Nashville, Tennessee. He was Golden Globe nominated in 1970 as Most Promising Newcomer – Male for True Grit (1969). He was Oscar nominated in 2015 for Best Original Song for I'm Not Gonna Miss You (shared with Julian Raymond) in the film Glen Campbell: I'll Be Me (2014) .
© Derek Winnert 2016 Classic Movie Review 4105
Check out more reviews on http://derekwinnert