Any Day Now – Film Review
Dear Alan Cumming,
I've followed you film career for, what?, maybe 20 or so years now, since a film called Prague way back in 1992.
You're an extremely talented, wonderfully entertaining man, but you've been good, bad and indifferent, pretty much like the rest of us, in the past 20 years.
In 2001, you were Wyatt Frame in Josie and The Pussycats. And in 2002 you played Fegan Floop in Spy Kids 2 and again in Spy Kids 3D the following year. This year you're Gutsy Smurf in The Smurfs 2 and the voice of Gordon the Goat in Sir Billi. And you played The Hole in 3rd Rock From the Sun. Gosh, what can I say?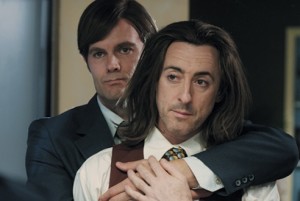 But now I'm going to forgive all that. You are truly bloomin' marvellous in Any Day Now, playing the plenty rude Rudy Donatello, a flamboyant, long-haired, cash-strapped 70s American drag queen, who meets two boys. One is an ambitious, painfully honest and good-hearted lawyer, Paul Fliger (Garret Dillahunt), a previously straight man who takes a big fat shine to Rudy when he sees his mime drag act. (No wonder, Alan, you look amazing in drag!) The lawyer gives him a cuddle in his car in the parking lot and then his phone number.
The second is Marco (Isaac Leyva) , a teenage boy with very considerable disabilities, who lives in the next-door apartment to him with his gay-hating, drug-abusing mom, who promptly abandons the kid for a useless boyfriend.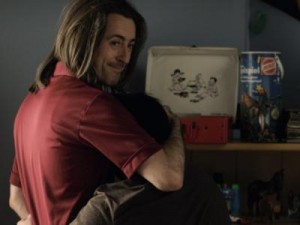 Rudy needs to help and uses the number to call the lawyer. The new friends and lovers become an official gay couple to take in and look after the kid and become the loving family he's never had.
But, prompted by the lawyer's homophobic DA boss (Chris Mulkey), the authorities discover the duo's unconventional living arrangement, and they are forced to fight a biased legal system and its snotty judges to try to save the boy they've come to love as their own.
This adorable character-driven drama is inspired by a true story from the late 70s. It's supposed to be a tale of perhaps unlikely heroes finding love in a perhaps unlikely place. But really they're not so unlikely at all, unless you want to feel prejudiced too. I think they're likely heroes and it's a likely place. So much has changed in these last 30 years, but not enough really. The story Any Day Now tells is still urgent and timely. The legal and social issues it tackles remain relevant and so do the feeling and love behind it.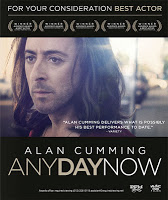 Director Travis Fine tells this incredibly powerful and moving story passionately and beautifully with great urgency, dynamism and style. It will hit you in your soft spot, if you have one, but it hits with a Mohammad Ali of punches.
The issue-led and character-driven film doesn't once put a foot wrong in treading through what could be a potential minefield of legal issues, attitudes to family and adoption, physical and mental handicap, gay rights, straight prejudices and just plain sentimentality. It does everybody and everything here proud.
Leyva's ideal. Frances Fisher's outstanding as the judge. Above all, Cumming and Dillahunt are perfection. Cumming is brilliant coming on as a gay fighting hero no one's going to put down and he memorably performs Love Don't Live Here Anymore and I Shall Be Released. Dillahunt is a tower of strength, a steadfast, sturdy, rock-steady foil to Rudy.
A dazzling celebration of love in its every form, this film is unmissable. It's impossible to leave it feeling unmoved and not transported for at least the rest of the day, possibly week, to Cloud Nine.
Thank you, Alan Cumming
I wish you very well indeed and many more opportunities to shine and be fascinating.
Kindest regards,
Derek Winnert
http://derekwinnert.com/mysterious-skin-classic-film-review-160/
(C) Derek Winnert 2013 derekwinnert.com