Another Dawn ** (1937, Errol Flynn, Kay Francis, Ian Hunter, Mary Forbes) – Classic Movie Review 4756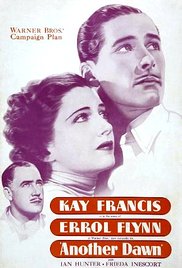 Director William Dieterle's 1937 romantic melodrama film was an old-fashioned antique even when it was new. Its mix of adventure plus romance in the British Empire is a soap-opera-style time-filler set in an imperial African desert outpost.
Kay Francis stars as Julia Ashton, an English army wife stuck in the eternal triangle, dithering between her passionate love for the dashing, handsome officer Captain Denny Roark (Errol Flynn) and standing by her dull but worthy husband Colonel John Wister (Ian Hunter).
Though it is supposedly based on an original story, it all sounds so much like one of those old Somerset Maugham stories. And so it is – it is based on Maugham's 1919 play Caesar's Wife. Warner Bros bought the rights to Caesar's Wife late in 1935 and got Laird Doyle to write the screenplay, but gave him an original story credit for the film, with no credit for Maugham.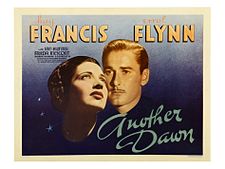 Director Dieterle brings some authority to it and keeps it moving swiftly along in a short running time of just 73 minutes. But both he and Flynn must have wondered why they were involved in such a poor little thing at the time of their greatest successes.
The acting is overheated, and Laird Doyle's screenplay is none too credible. But the film is technically impressive, with Tony Gaudio's black and white cinematography and Erich Wolfgang Korngold's orchestral music score outstanding. A lot of talent and hard work have been put in to such a minor matter, but it is good to recognise and enjoy that all the same.
Also in the cast are Mary Forbes, Frieda Inescort, Herbert Mundin, Billy Bevan, Kenneth Hunter, G P Huntley Jr, Clyde Cook, Richard Powell, Charles Irwin, David Clyde, Spencer Teakle, Ben Welden, Eily Maylon and Reginald Sheffield.
Warner Bros films regularly showed movie marquees with a fake film called Another Dawn, so, with decent titles in short supply, the studio decided to create a movie actually called that.
It was to have starred Bette Davis, but she was on suspension, forcing Warners to give the role to Kay Francis. 'I don't do much in it,' said Francis. 'Things just happen about me. I am just a wife who has been unfortunate in love, as usual.'
It was shot on the Warner backlot at Lasky Mesa, in Calabasas, California, with action sequences shot in Yuma, Arizona.
Dieterle did not want to make the film but did it as a favour to producer Hal Wallis and Flynn did not want to make the film either.
Expectedly, it had bad reviews, apart from for its haunting score, which Korngold used it in the first movement of the Violin Concerto some years later.
Warner Bros planned to make a film called The Outpost adapted from Maugham's Caesar's Wife and directed by Michael Curtiz, but wisely quietly dropped the idea.
© Derek Winnert 2016 Classic Movie Review 4756
Check out more reviews on http://derekwinnert.com