Another Country **** (1984, Rupert Everett, Colin Firth, Michael Jenn, Robert Addie, Anna Massey, Rupert Wainwright, Betsy Brantley, Cary Elwes) – Classic Movie Review 2148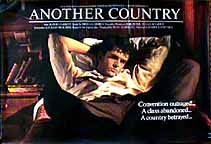 Playwright/screenwriter Julian Mitchell's extremely fine, provocative, award-winning London West End theatre hit gay stage play happily is filmed retaining its exciting young stars Rupert Everett and Colin Firth from the London run. They play a couple of misfit Thirties English public schoolboys, based on the infamous real-life characters Guy Burgess and Donald MacLean who became known as the Cambridge spies.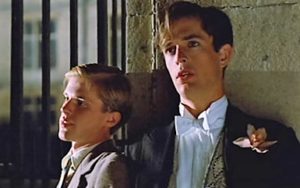 Mitchell explores the effect of repressive and alienating public school life in the Thirties on the outsider Guy Bennett as his homosexuality and unwillingness to play the game turn him towards the idea of supporting Communist Russia.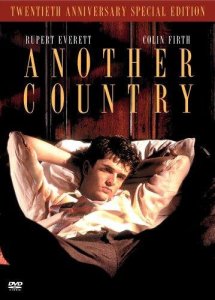 Alas, the play that worked so extraordinarily well in the West End and challenged audiences' responses seems coarsened here on film. And Mitchell's apparent central notion that being repressed, tormented and caned at school has the effect of turning English boys into Russian spies like Guy Burgess – here fictionalised as Guy Bennett (Everett) – is ridiculous, not to say offensive, as outsiders become the 'enemy' within. Firth's character is fictionalised as Tommy Judd.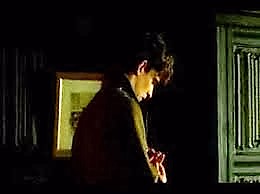 Director Marek Kanievska's handling of the 1984 transfer to film is also very uncertain though. Nevertheless, the subject, the actors, their performances and the script and film-making's general air of intelligence mark it out as special. It is a very good-looking film, thanks to Peter Biziou's cinematography, which won the award for Best Artistic Contribution at the Cannes Film Festival in 1984.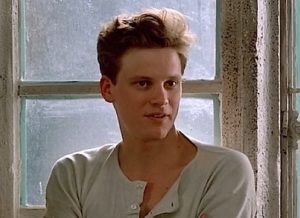 It is especially good to see what the young Everett and Firth are capable of, sparking off their long and successful careers. Firth gives a strong. quietly tough performance of a concerned  young man frustrated by the corrupt system. And Everett gives an outstanding tour de force as he subtly shows the hurt and pain of dealing with his situation.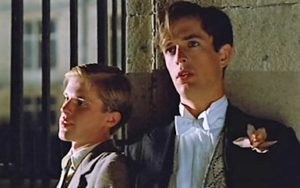 Guy's instincts lead him bravely to show and act on his homosexuality in a society where it was illegal, being true to himself, but they also lead him in the wrong direction of betraying his country. Everett was Bafta nominated for the Most Outstanding Newcomer to Film.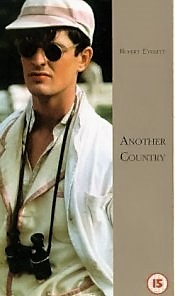 The progress of the romantic relationship between Guy and Cary Elwes's Harcourt is delicately and subtly done. And there is much conviction placed too in the film's strong fragrant whiff of 1930s British public school life, building up a convincing portrait of the oppressive society of an elite school between the wars.
Another Country is book-ended by scenes of an old Guy Bennett being interviewed by a young woman, recording his memories for posterity which leads back to the 1930s public school.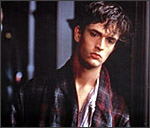 Also in the cast are Michael Jenn, Robert Addie, Anna Massey, Rupert Wainwright, Betsy Brantley, Cary Elwes, Tristan Oliver, Frederick Alexander, Adrian Ross-Magenty, Geoffrey Bateman, Philip Dupuy, Guy Henry, Jeffrey Wickham, John Line, Gideon Boulting, Llewyln Rees, Arthur Howard, Ivor Roberts, Crispin Redman and Nick Rowe.
http://derekwinnert.com/if-classic-film-review-91/
© Derek Winnert 2015 Classic Movie Review 2148
Check out more reviews on http://derekwinnert.com/