Annabelle: Creation ** (2017, Stephanie Sigman, Talitha Bateman, Miranda Otto, Lulu Wilson, Anthony LaPaglia, Kerry O'Malley) – Movie Review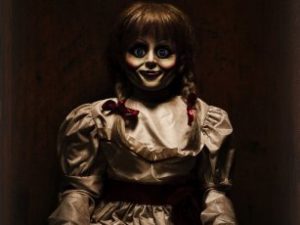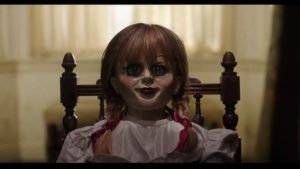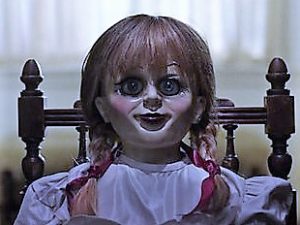 12 years after the tragic death of their little girl in a road accident, dollmaker Samuel Mullins (Anthony LaPaglia) and his wife Esther (Miranda Otto) welcome nun Sister Charlotte (Stephanie Sigman) and several young girls from an orphanage into their home.
The dollmaker's evil possessed creation, Annabelle, strikes again in this contrived and muddled origins story prequel to Annabelle, a franchise spinoff as 'the next chapter in The Conjuring universe'.
This lame and really silly horror thriller, directed by David F Sandberg, the maker of Lights Out, is good for a few laughs or a few screams, depending on your reaction. Gary Dauberman's script tries hard but it isn't really any good, with plotting. characters and dialogue all deficient. If you want to be kind, you could say it's silly and fun. If not, you could say it's silly and boring. 
Cheaply made at $15,000,000, and quickly too, by the look of it, and on just a few sets, with a couple of outside locations, it looks cheap and tatty, mainly thanks to the decision to film the house interiors in virtual darkness, so that mechanical, nonsensical scares can be contrived and engineered. It is so dark you can hardly see what's going on, and sometimes, actually often, so quiet you can hear the sound from the neighbouring screen.
There is little music at the start, which at least seems classy, letting you concentrate on the plotting. characters and dialogue. But, as they are deficient, that's a very mixed blessing. Much of the dialogue is inaudible, which may be a blessing. Some of the young actresses are understandably struggling with what the script offers them. Talitha Bateman plays the leading role as Janice (or Annabelle). Good, experienced actors LaPaglia and Otto have nothing really to do, certainly nothing really worth doing, and are wasted. 
Sigman doesn't make much of an impression in a one-note role. Mark Bramhall could have had more to do as Father Massey, the priest who arranges the setup and does a bit of religious stuff, pronouncing everything is OK at the end, evil vanquished etc. There is a fair amount of religious mumbo jumbo during the film, as you'd expect, with nuns and orphan girls, the film recalling The Beguiled occasionally.
The movie is a slow burner, with a prologue followed by half an hour of not very much happening. Then it virtually abandons the evil doll idea to be a haunted house movie that happens to have an evil doll in it, with things going bump in the night, endlessly. Was the script written for another purpose as a stand-alone movie, then semi-tailored as an Annabelle prequel?
You keep thinking that it is a haunted house with spirits (or something) trying to kill everybody, so why don't they get the heck out of it. Dauberman's got that covered. The nun provides the lame answer – 'where else would we go?'
The Conjuring (21013) was first rate, but it has proved a hard act to follow. I can't really say that of Annabelle though. By the way, it helps a lot to have seen, and be able to remember, these two movies. Indeed, the ending connecting Creation to Annabelle doesn't make sense otherwise.
By the way, the porcelain doll is not so much threatening or scary as just plain ugly. The moral of the story is that dolls, whether they are a rag-doll or porcelain doll, are not sweet but just creepy, like clowns. That is the link to the idea that Dauberman's next screenplay is for Stephen King's It (2017), a lengthy and rather dull scene from which was played before the screening of Annabelle: Creation.
It opened on 11 August 2017 in the US. Its box office takings topped $100 million in the US on 29 September 2017 and passed $300 million worldwide.
© Derek Winnert 2017 Movie Review
Check out more reviews on http://derekwinnert.com