Angus, Thongs and Perfect Snogging *** (2008, Georgia Groome, Aaron Johnson, Karen Taylor, Liam Hess, Tommy Bastow, Alan Davies) – Classic Movie Review 537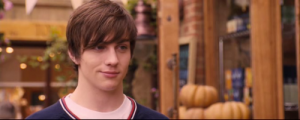 When you're an 14-year-old English schoolgirl, little things like a big nose, a silly school uniform, an annoying family or lack of a good snogging technique aren't going to get in the way of landing the boy of your dreams!
Teenage girls and their mums will love this funny, feel-good teen-angst sitcom from 2008 about the romantic trials and tribulations of Eastbourne girl Georgia Nicolson. It is packed with warm-hearted, broadly aimed laughs and lots of sharp observations that ground it firmly in reality.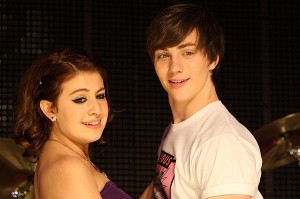 Proving a perfect fit, 16-year-old near newcomer Georgia Groome lands the plum as the gawky kid who confides all in her diary. Her acting here is all the more impressive as a contrast to her work as an abused waif in the 2006 thriller London to Brighton.
And there's a nice cast all round her. The 18-year-old Aaron Johnson plays Stiff Dylans' band hottie Robbie, the new 'sex god' Georgia fancies at her school, Liam Hess (as Peter Dyer) and Tommy Bastow (as Dave the Laugh) are just right as the eye candy, while Karen Taylor and Alan Davies get their laughs overdoing the parts of the girl's puzzled parents, Connie and Bob.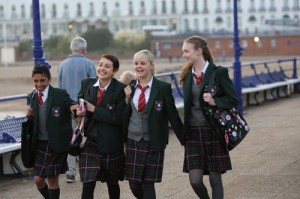 We've been here loads of times before, of course, but mostly in American movies. And this bright and breezy adaptation of two of Louise Rennison's popular books comes up pretty fresh and funny in the expert hands of co-writer/ director Gurinder Chadha, following up her hits Bride & Prejudice and Bend It Like Beckham (2002). The film is suitable for all the family. Don't worry about its 12 cert as it contains nothing beyond some very mild sexual innuendo.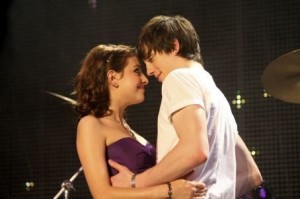 Angus is the fluffy family cat, by the way!
The title was later changed Angus, Thongs and Full-Frontal Snogging, no doubt to make it seem sexier.
Paul Mayeda Berges, Will McRobb and Chris Viscardi help Chadha on the adapted screenplay.
Groome starred in Papadopoulos & Sons in 2012. Aaron Johnson became Aaron Taylor-Johnson and became a star in Nowhere Boy (2009), Kick-Ass (2010), Kick-Ass 2 (2013), Godzilla (2014) and Avengers: Age of Ultron (2015). Aaron began a relationship with Nowhere Boy's director, Sam Taylor-Wood, and they married in 2012.
© Derek Winnert 2013 Classic Movie Review 537
Check out more reviews on http://derekwinnert