Anger Management ***½ (2003, Jack Nicholson, Adam Sandler, Marisa Tomei) – Classic Movie Review 294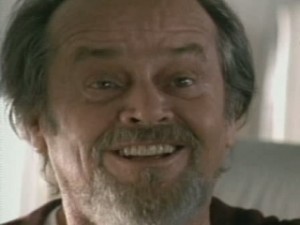 Jack Nicholson and Adam Sandler form a fine comedy team in this 2003 comedy propelled by an excellent central idea, two brilliantly judged comic performances and some hilarious gags and extremely funny scenes. With an uneven script, it's a bit of a curate's egg but, overall, it's richly enjoyable and huge fun.
Jack Nicholson runs through the entire gamut of his silly faces as Dr Buddy Rydell, an anger management shrink appointed by a court to control the rages of Dave Buznik (Adam Sandler), who works for a pet clothing company out of New York City.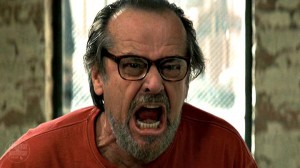 Dave has landed up in court after being involved in a misunderstanding aboard an airplane, after which he's accused of abusing a flight attendant. His sentence is enforced anger management therapy with a man who turns out to be a psycho, as the relationship between Dave and Buddy becomes more and more tense.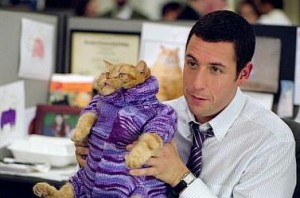 The big joke here is that the unjustly accused Buddy's actually a mild-mannered sort of a bloke – that is till he meets the wildly aggressive Buddy, and that sends Dave into uncontrollable rages for real!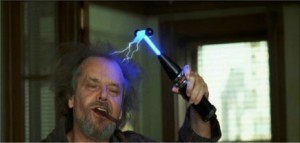 Though it was made by Sandler's company Happy Madison, and Nicholson is only the hired hand here, it inevitably soon turns into The Jack Show anyway and Sandler is a brave man to take co-starring billing in what inevitably becomes a Nicholson movie. And it is to Sandler's great credit that he underplays and, in seeming to do less, he is still very funny.
We have always said less is more in comedy. Nicholson wouldn't agree with this, though, and he is on best, funniest barnstorming form here. The duo's rendition of I Feel Pretty from West Side Story is an especial hoot.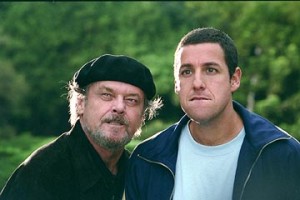 It's a very good show, and if it is slightly patchy, it's always amusing and even side-splitting in several places. Grrrrrrrrrreat!
Marisa Tomei is wasted as Sandler's love interest, his loving girlfriend, Linda. Famous angry tennis player John McEnroe appears, amusingly, and so does New York Mayor Rudi Giuliani.
Luis Guzman, Heather Graham, John C Reilly, Harry Dean Stanton, John Turturro and Woody Harrelson are also in the first-rate cast.
© Derek Winnert 2013 Classic Film Review 294
Check out more reviews on derekwinnert.com