Angel Face ****½ (1953, Jean Simmons, Robert Mitchum, Herbert Marshall, Barbara O'Neil, Leon Ames, Mona Freeman) – Classic Movie Review 6397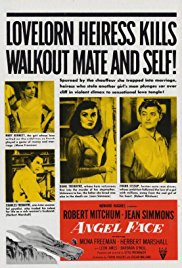 Angel Face is a ferocious, delirious, captivating 1953 RKO film noir melodrama from inspired director Otto Preminger. With its uniquely disturbing nightmarish scenario and atmosphere, it is the stuff that Freudian bad dreams are made on.
Jean Simmons stars on her most outrageously malicious form as Diane Tremayne, the dangerously psychopathic young woman with the titular sensuous angel face, who despatches her father and stepmother. And, after a while, she even endangers Frank Jessup (Robert Mitchum), the mean and moody ambulance driver she has fascinated and embroiled in her deadly schemes as the family chauffeur. 'He thrilled to her lying lips… yielded to her whispered promises… plunged into the trap her love had set for him!'
Also scoring strongly in the distinguished cast are Herbert Marshall, as the father Simmons adores, and Barbara O'Neil, as the hated stepmother.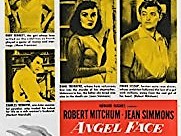 An inspired Preminger directs this involving and surprising film moodily and tautly, while his stars perform brilliantly, in contrasting performances respectively with ice (Simmons) and fire (Mitchum), and there is a masterly resonant score by Dimitri Tiomkin.
Also in the cast are Leon Ames, Mona Freeman, Kenneth Tobey, Raymond Greenleaf, Jim Backus, Griff Barnett, Robert Gist, Morgan Farley, Bess Flowers, Alex Gerry and Gertrude Astor.
It is written by Frank S Nugent and Oscar Millard, based on a story by Chester Erskine. It is shot in black and white by Harry Stradling Sr, produced by Otto Preminger, scored by Dimitri Tiomkin and designed by Albert S D'Agostino and Carroll Clark.
© Derek Winnert 2017 Classic Movie Review 6397
Check out more reviews on http://derekwinnert.com