Anatomy of a Murder ***** (1959, James Stewart, Lee Remick, Ben Gazzara) – Classic Film Review 59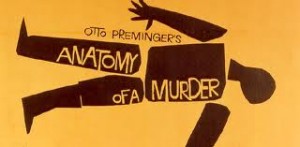 Director Otto Preminger's vice-like grip controls this long, complex and thought-provoking 1959 courtroom thriller, one of the finest ever made. It's based on the once highly popular and famous bestselling novel by Robert Traver, the pen name of real-life John D Voelker, a Michigan Supreme Court Justice judge as well as a crime writer. He based his novel on a 1952 murder case in which he was the defence attorney.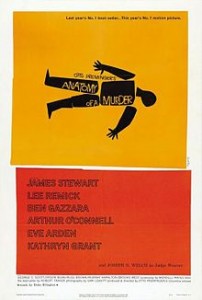 On his best form, James Stewart gives an effortlessly canny performance as Paul Biegler, the laid-back defence lawyer who tries to help army lieutenant Frederick Manion (Ben Gazzara) beat the rap for the murder of a bar owner he believes attacked and raped his sexy young wife Laura (Lee Remick). In the courtroom at his murder trial, Manion is pleading temporary insanity.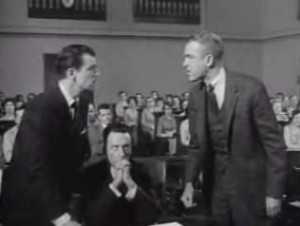 Terrific though Traver's story, the screenplay by Wendell Mayes and Preminger's direction are, it's the performances that are most memorable here, including Arthur O'Connell as Stewart's drunken Irish attorney ally Parnell Emmett McCarthy, George C Scott as the silkily threatening prosecutor Assistant State Attorney General Claude Dancer, and, as the man in charge Judge Weaver, real-life lawyer Joseph N Welch, famous then for berating Joseph McCarthy during the Army-McCarthy Hearings.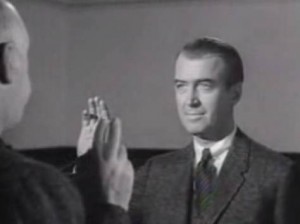 The permission to use racy language ('panties', 'slut', 'bitch', 'contraceptive') that shocked some audiences (and the star's father) in its day proved a milestone in liberalising film censorship. There were seven Oscar nominations, three BAFTA nominations and four Golden Globe nominations, but surprisingly no wins.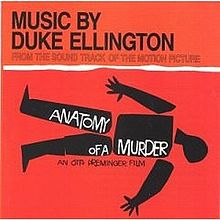 However, Stewart won best actor at the Venice Film Festival and from the New York Film Critics Circle. Duke Ellington won a soundtrack album Grammy for his superb jazz score and he also appears briefly as Pie Eye. Welch's wife is one of the jurors.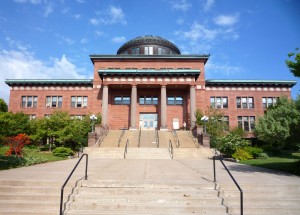 The Marquette County Courthouse was used for courthouse scenes.
(C) Derek Winnert 2013 Classic Film Review 59
Link to Derek Winnert's home page for more film reviews: http://derekwinnert.com/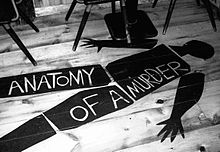 Where the body fell.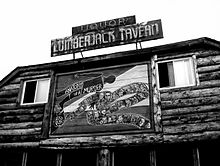 The outside of the Lumberjack Tavern, scene of the actual crime the film is based on.