Amour ***** (2012, Jean-Louis Trintignant, Emmanuelle Riva, Isabelle Huppert) – Movie Review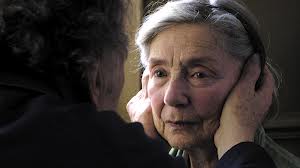 Munich-born writer-director Michael Haneke's film about a married couple in their eighties desperately trying to cope when a stroke suddenly hits the wife one day at breakfast, leaving her speechless and partly paralysed, is a strong candidate for film of the year 2012. It deservedly won the Palme d'Or at Cannes.
It bravely tackles the tragedy of the human condition. Decline and fall. All things must pass. But it is also a great love story, one of the greatest.
Jean-Louis Trintignant and Emmanuelle Riva are incredible as Anne and Georges, cultivated, retired Parisian music teachers, enjoying a content, comfortable, civilised life, utterly devoted to each other.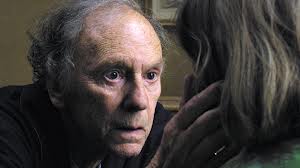 When it seems that hospitals can't help any more, Georges tries to care for Anne in their comfortable apartment according to her wishes. But Georges find his love for her sorely tested as she gets increasingly poorly and he becomes wearier and wearier.
Isabelle Huppert is loyal in a small but essential support role as their daughter Eva, a musician who lives abroad with her family, who enters the conflict that her parents find themselves in.
Heartbreaking is not too strong a word for a film that's impeccably handled in a minimalist style by Haneke. His desperately honest and true screenplay feels like an urgent personal statement. It is quite brilliantly written. Every line and scene are perfect.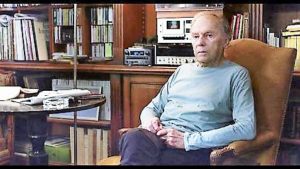 It could just be a stock situation and stock characters, but the screenplay effortlessly transcends this to become particular and universal at the same time. These are 'real' characters in a 'real' situation, and the actors do the rest. Trintignant walks around seeming frail but totally determined, still powerful and up to the task in hand. Riva suffers and looks at him and us accusingly. How did this happen, she seems to ask.
You can't help but compare the performances of Trintignant and Riva. There are moments when one or other seems to be more brilliant than the other, then the other way round. If it were an acting contest it would be a tie. But it isn't. It's a game of mixed doubles and they're partners, even when they're acting apart on screen.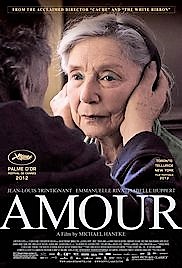 It is a love story but it's not quite Gone with the Wind. Even if there is plenty of the titular love on show, it is very hard indeed to watch such terrible pain put up there on screen. The story runs with a tragic inevitability to its spare conclusion. Cinema is emotion, and I cried buckets.
Too many films don't have ends or conclusions, they just seem to finish, but this one sure does. The conclusion is devastating, but then so's the entire film. Quietly, but appallingly and shockingly devastating. The result is worthy of Bergman.
It won the Oscar for Best Foreign Language Film in 2013. Riva was nominated as Best Actress, at 85 the oldest nominee of all time in this category. Also nominations for best film, screenplay and direction. Riva won best actress at the Baftas and it was best film. The London Critics Circle did it proud, with Film of the Year, Actress of the Year, and Screenwriter of the Year.
Gala screening at the London Film Festival, October 4, 2012, Curzon Mayfair.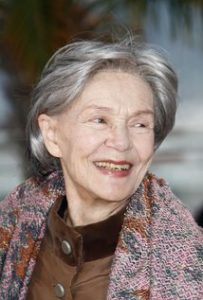 RIP Emmanuelle Riva, who died on 27 aged 89.  She is best remembered for Hiroshima Mon Amour (1959), Léon Morin, Priest (1961) and Three Colors: Blue (1993). 
© Derek Winnert 2012 Movie Review
Check out more reviews on http://derekwinnert.com