American Pie **** (1999, Jason Biggs, Chris Klein, Seann William Scott, Thomas Ian Nicholas, Eddie Kaye Thomas, Eugene Levy, Jennifer Coolidge) – Classic Movie Review 260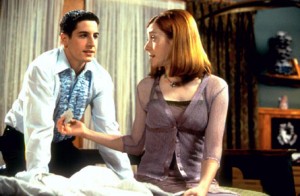 'Dude, that chick's a MILF!' Directors Paul and Chris Weitz's infamous 1999 teen grossout sex comedy, written by Adam Herz, is always delightful and amusing, often astoundingly funny and sometimes hysterical. It's one of the best ever of its popular kind. They're hard to do well, and this is how to do it brilliantly.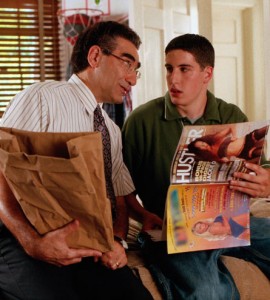 It centres on the misfortunes of five American high-school buddies – Jim (Jason Biggs), Kevin (Thomas Ian Nicholas), Oz (Chris Klein), Finch (Eddie Kaye Thomas) and Stifler (Seann William Scott) – who make the ultimate pact: lose their virginity by prom night. Their goal: 'Valid, consensual sex. No prostitutes.'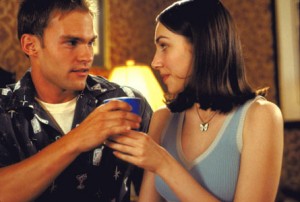 Poor, sex-starved Jim's hormones are raging. He tries to get it on with Czech exchange student Nadia (Shannon Elizabeth) and with Michelle (Alyson Hannigan) and he has problems with the American Pie of the title and with his silly Dad (Eugene Levy).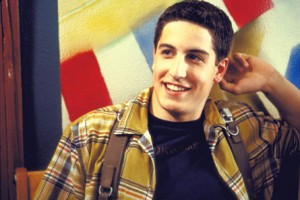 The five actors are outstanding, creating memorable characters who are incredibly daft but warm and appealing too. Levy is hysterical with his embarrassingly well-meaning sex advice to Jim and Jennifer Coolidge is hilarious as Stifler's voluptuous, sexy mom.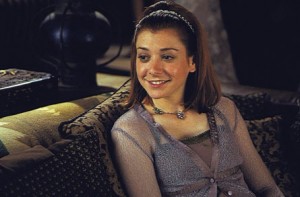 Among the other essential actors and charecters, Chris Owen is Sherman, Natasha Lyonne is Jessica, Tara Reid is Vicky, Mena Suvari is Heather and Molly Cheek is Jim's Mom. It's a great ensemble.
Uncut version on DVD: American Pie Unseen – 'What you didn't see in the cinema. More Nadia. More Moaning. More Pie.'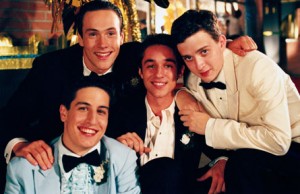 Obviously there's strong sexual content, crude humour, strong language and drinking.
For the record, 'American Pie' is a registered trademark of singer Don Maclean, who had a number one hit with the song.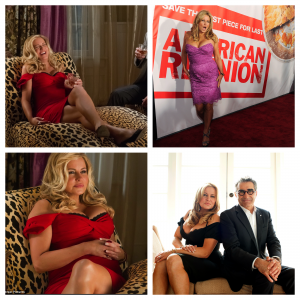 British DJ Chris Evans said: 'The funniest film I have ever seen.' It's a hyperbole, but many would agree with him.
American Pie 2 (2001), American Pie: The Wedding [American Wedding] (2003) and American Pie: The Reunion [American Reunion] (2012) followed.
© Derek Winnert 2013 Classic Movie Review 260
Check out more reviews on http://derekwinnert.com