American Honey **** (2016, Sasha Lane, Shia LaBeouf, Riley Keough) – Movie Review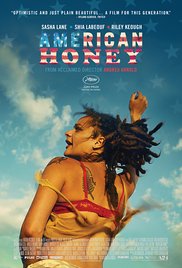 The 21-year-old from Dallas, Sasha Lane, makes a spectacular film debut as Star, an alluring lost teenager who is recruited by the wild and sexy Jake (Shia LaBeouf) to join his travelling magazine sales crew.
As she crosses the American Midwest in a van with the band of misfits led by the toughened Krystal (Riley Keough), Star puts herself in a lot of danger, caught up in a paradise lost hell of chatting up men, partying, law breaking, drug and alcohol abuse, sex and prostitution. She might be a desperate outsider and at her wit's end, but she is also an irresponsible idiot, with her passion for Jake a dangerous obsession.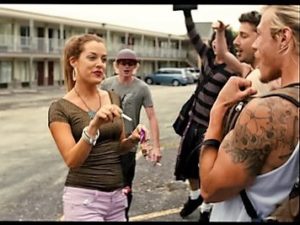 If Lane is sensational, so too are LaBeouf and Keough. It's LaBeouf's best work ever and Keough is chilling. All three stars are incredibly charismatic and carve out indelible characters. Individual sequences in the movie are brilliant, but it has no structure, and just rambles and drifts like its characters, resulting in a 163 minute running time. A skillful editor could cut an hour out it very profitably, and, provided that was the drossy hour, make it a masterwork.
Now don't get me started on Star's behaviour. It says a lot about Lane and her acting that she keeps Star sympathetic when she does such stupid things. You worry about her safety when she seems to have no concern for it. Her essential innocence seems to keep her safe, but this is the improbable side of a  movie that mostly otherwise feels rawly truthful.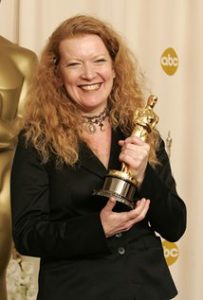 Surprisingly, this exciting and controversial epic drama is written and directed by the 55-year-old Andrea Arnold from Dartford, Kent, who won a 2003 Best Short Film Oscar and went on to make Red Road and Fish Tank. This is one clever, brilliant woman. She gets a lot of benefit from (LaBeouf apart) employing unknown actors in most of the roles, though that only really works if they are this great. Unusually, Arnold films in chronological order, and with natural or available light, with much of it obviously improvised, all of these things spurring freshness and vibrancy.
Rated 15 in the UK and R in the US for strong sexual content, graphic nudity, strong language throughout, and drug/alcohol abuse – all involving teens.
© Derek Winnert 2016 Movie Review
Check out more reviews on http://derekwinnert.com