Always *** (1989, Richard Dreyfuss, Holly Hunter, John Goodman, Brad Johnson, Audrey Hepburn) – Classic Movie Review 4258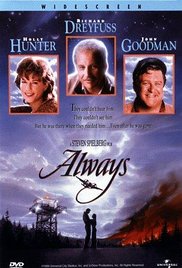 Steven Spielberg and Richard Dreyfuss loved director Victor Fleming's 1944 MGM sentimental wartime Spencer Tracy fantasy film A Guy Named Joe so much that they remade it as Always.
Spielberg's pleasant remake is another sentimental supernatural love story with Dreyfuss as the daredevil aerial forest-fire firefighter pilot Pete Sandich, who promises his girlfriend Dorinda Durston (Holly Hunter) that he will give up his dangerous job, but is killed saving the life of his firefighter buddy Al Yackey (John Goodman).
Dreyfuss's Pete goes to heaven, meets an angel (Audrey Hepburn, who is very touching in her brief final role) and returns as a ghost, unseen by anyone, to see Dorinda fall for the dumb hunk Ted Baker (Brad Johnson).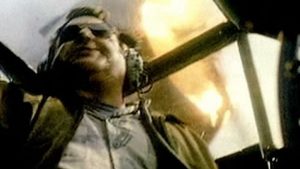 There are strong performances all round, with Dreyfuss holding the centre firm, though Goodman is especially distinguished. Spielberg's direction is effective, particularly in the exciting aerial sequences, but Jerry Belson and Frederick Hazlitt Brennan's screenplay (based on Dalton Trumbo's original) is strained in the soppy romantic scenes and the unconvincing conclusion.
Also in the cast are Roberts Blossom, Keith David, Ed Van Nuys, Marg Helgenberger, Dale Dye, Brian Haley and James Lashly.
Chandler Sprague and David Boehm were Oscar-nominated for Best Original Story for A Guy Named Joe.
© Derek Winnert 2016 Classic Movie Review 4258
Check out more reviews on http://derekwinnert