Alligator *** (1980, Robert Forster, Dean Jagger, Henry Silva, Robin Riker, Michael V Gazzo) – Classic Movie Review 3181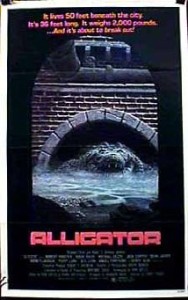 Written by John Sayles, director Lewis Teague's 1980 horror thriller is good fun and quite scary as a tongue-in-cheek monster movie, even if it is annoyingly patchy and scrappily made.
It's a send-up based on supposedly real-life, probably un-real-life, fright stories current at the time from New York (where else?) about a pet baby alligator being flushed down a Chicago loo. In the movie, the alligator survives by eating discarded lab rats injected with growth hormones, grows up to be a 20-foot monster escapes the city sewers and runs amok.
It is a really good movie idea, inspired by a famous urban legend of the Seventies. But in the event it turns out that it needs more outrageousness, pace, punch and style to put the movie in the top class.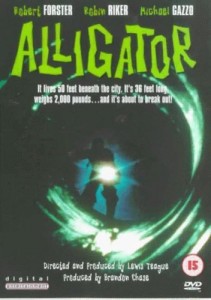 Nevertheless, it is not at all bad, and it's an amusing and endearing little film anyway, that has become a cult movie, with a useful, hard-working cast, headed by Robert Forster, Dean Jagger and Henry Silva. It runs 94 minutes and the cut version runs to 90 minutes.
Also in the cast are Robin Riker, Michael V Gazzo, Jack Carter, Perry Lang, Bart Braverman, Sue Lyon (playing the ABC Newswoman), Angel Tomkins, Pat Peterson and Robert Doyle.
An abysmal, belated sequel Alligator 2: The Mutation followed in 1991, starring Steve Railsback, Joseph Bologna, Dee Wallace Stone and Richard Lynch.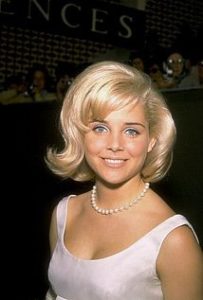 It is the final film so far of one-time Lolita, Sue Lyon, who is 70 on 10 July 2016. She married her fifth husband radio engineer Richard Rudman in 1985 and they lived in Los Angeles till they divorced in 2002. She has retired from acting and avoids interviews.
© Derek Winnert 2015 Classic Movie Review 3181
Check out more reviews on http://derekwinnert.com