Allied ** (2016, Brad Pitt, Marion Cotillard, Jared Harris, Simon McBurney) – Movie Review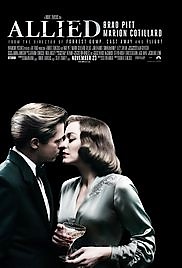 Brad Pitt and Marion Cotillard play a Canadian airman and a French Resistance fighter, who meet and fall in love in wartime Casablanca, where they eventually assassinate the Nazi ambassador.
[Spoiler alert] Later in London, Max Vatan and Marianne Beauséjour are living in wedded bliss with a baby in Hampstead when Max is told by his bosses that they suspect Marianne is a Nazi spy and he must entrap and kill her – if indeed she is a traitor.
It is not at all a bad set-up. And Allied is easy-going period adventure escapism, mixing Casablanca (obviously) with Notorious. There is enough romance, drama and action to make it a respectable old-style entertainment. It could have been a real contender but it has disappointment written all over it. An often turgid, listless, old-fashioned wartime romantic thriller, with some superficial characters and some emotionless scenes, it staggers dully from one unconvincing moment to another.
To be fair, some of the scenes work as you imagine it was intended and the Oscar-winning Marion Cotillard (La môme from 2007) is properly tantalising and alluring, rather better than Brad Pitt, who looks like a handsome rabbit in headlights for too much of the film, though that perhaps is the role and he is delivering what he is asked.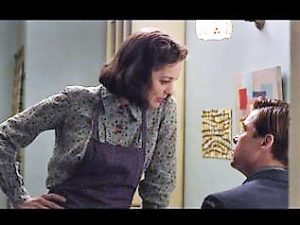 The production is on the ordinary side and some of the visual effects are a bit ropey. Robert Zemeckis directs without enough of a sense of purpose or style, and when he goes for a bit of style as in the love-making scene in the car, it falls flat. But it is the mechanical screenplay by the hugely talented Steven Knight (Locke, Eastern Promises) that is to blame. It just doesn't kick up enough suspense or credibility. I know it's only a movie, but it's hard to believe any of it.
[Spoiler alert] There's only one question in the script: is Canadian airman Pitt's new French resistance wife actually a Nazi spy? And, alas, there's only one answer really too, so you are just waiting for the film to end. Actually, I worked out a third ending, which is rather clever and would give the movie one big lift.
[Spoiler alert] The third act revelation would of course be that Canadian airman Pitt is actually the Nazi spy. Would Pitt have wanted to play it, though? Well, why not. The actual ending, which should be so shocking, so devastating, is so expected that it comes as an anti-climax instead of the required climax.
A couple of British actors ground it with spot-on period-style performances: Jared Harris as Pitt's superior officer Frank Heslop, and Simon McBurney as the sinister British S.O.E. Official. These two deserve an honourable place in gallery of classy character actors, an endangered species that seemed the sole prerogative of old movies.
© Derek Winnert 2016 Movie Review
Check out more reviews on http://derekwinnert.com