Allan Quatermain and the Lost City of Gold * (1986, Richard Chamberlain, Sharon Stone, James Earl Jones, Henry Silva) – Classic Movie Review 5637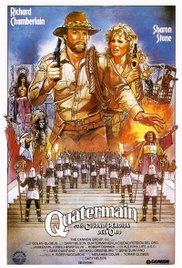 Director Gary Nelson's  lacklustre, low-budget 1986 sequel to 1985's King Solomon's Mines brings Richard Chamberlain back as H Rider Haggard's hero Allan Quatermain, this time off to Africa to find his vanished brother Robeson Quatermain (Martin Rabbett), missing on an exploration for a legendary lost white tribe. Rabbett is Chamberlain's longtime companion/ partner.
Made back to back with its predecessor, the movie is loosely based on Rider Haggard's 1885 novel Allan Quatermain, his immediately written sequel to King Solomon's Mines. Despite the low budget, a grand set was built for the movie just outside Victoria Falls, southern Africa.
It is the same old brew of spears, serpents and supposed savages, and this time it is not at all attractively served up. A struggling Sharon Stone also returns, as Jesse Huston, while James Earl Jones as Umslopogaas, Henry Silva as the evil lord Agon who controls the lost City of Gold, Robert Donner as Swarma, Aileen Marson as Queen Nyleptha and Cassandra Peterson (better known as Elvira) as Queen Sorais are all miscast and up the creek without a paddle.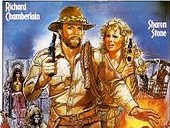 Also in the cast are Doghmi Larbi as Nasta, Alex Heyns, Rory Kilalea, Themsi Times, Philip Boucher and Stuart Goakes.
Newt Arnold directed 'additional scenes' and clear signs of post-production tinkering only make things worse.
It is a remake of 1977's King Solomon's Treasure, which was poor enough. It runs 110 minutes but the cut version runs at 96 minutes.
It is produced by Cannon, released by Rank, written by Gene Quintano and Lee Reynolds, shot by Alex Phillips Jr and Frederick Elmes, produced by Avi Lerner, Menahem Golan and Yoram Globus, scored by Michael Linn, and designed by Trevor Williams and Leslie Dilley.
Stone was nominated for a Golden Raspberry Award for Worst Actress but lost to Madonna for Who's That Girl.
The producers also reused music composed by Jerry Goldsmith for the first movie, supplemented with music from other Cannon productions.
The Cannon Group planned a third film, an adaptation of She and Allan, which was abandoned after the antipathy towards Allan Quatermain and the Lost City of Gold, as well as the company's financial difficulties.
© Derek Winnert 2017 Classic Movie Review 5637
Check out more reviews on http://derekwinnert.com