All Things to All Men [The Deadly Game] *** (2013, Gabriel Byrne, Rufus Sewell, Toby Stephens, Terence Maynard, James Frain, David Schofield, Julian Sands) – Movie Review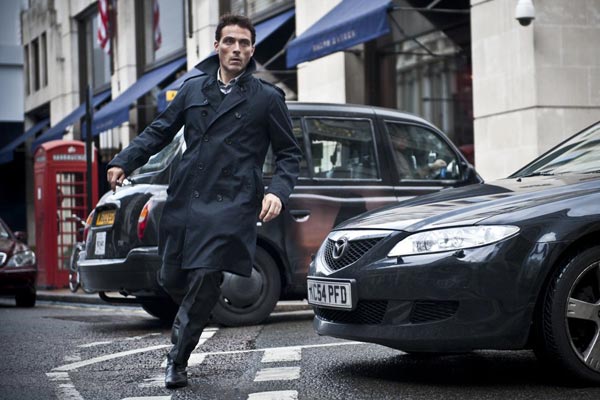 Rufus Sewell stars as a maverick –  ie bent – copper who stages a robbery with help from safe-cracker Toby Stephens and crime lord Gabriel Byrne in a London-set crime thriller story that closely recalls the earlier 2013 release Welcome to the Punch. It's just one of those strange coincidences you get quite often in the movies. They were planned and made simultaneously and I'm sure didn't know about each other at all. Weirdly, there are two movies about assaults on the White House this year too – Olympus Has Fallen and White House Down.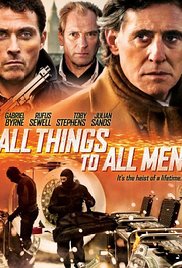 Made on a lower budget than the James McAvoy Welcome to the Punch movie, writer-director George Isaac's first film stands up well against it. Admittedly it's not perfect, but All Things to All Men is still a pretty slick, fast-moving and atmospheric crime thriller, lensed quite stylishly and very effectively on some of the capital's more interesting non-tourist spots to suggest the way of life here in 2013.
The eye-catching photography by Howard Atherton really captures the flavour of living, and working, and indeed enjoying the crime business from both sides in our mean streets. This gives the film texture and makes London one of the bright stars of the movie.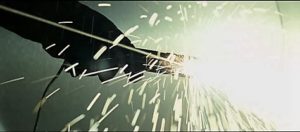 Never afraid to kill off characters, it is gritty entertainment that manages fresh riffs on old situations, thanks to half a dozen fine Brit actors on excellent form, one ace nail-biting car chase and that brilliant location work throughout the capital, ending up with a lethal showdown at the old Battersea Power Station.
Sewell, Stephens and Byrne slip comfortably in their characters like they're putting on sleek old leather gloves. They have nicely written roles and actors as seasoned as these don't mess this up. And there's good work all round from Terence Maynard as another rogue cop, James Frain as the Attorney General, David Schofield as the Police Commissioner and Julian Sands as Byrne's henchman. I said it's strongly cast and the actors here are much better used than the Welcome to the Punch lot.
The plot? Well, it's no better than Welcome to the Punch's, but this time I like it more.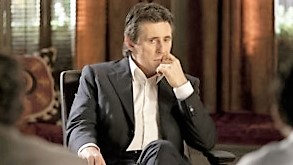 If the Internet is to be believed, and of course it always is, the movie's budget was £3million and they have got a lot of value from that, all there up on screen. Then again, Welcome to the Punch's was twice that at around £6million, and they got pretty good value too. Brit movies of this kind of cost stand a good chance of getting their money back, especially when supported by good advertising/marketing campaigns, which these are. So, good.
Just a thought though. When I went to see Cheerful Weather for the Wedding this year, I happened to be sitting next to one of the writers. He proudly (but mistakenly, I think) revealed that the film had been made on a shoestring, and that the public had been asked to invest in the movie in return for being an extra on screen, having their names on the end credits and bagging a couple of tickets to the premiere.
This writer surprised me by asking me if critics made allowances for the budgets of films. First response was of course not. (Anyway Cheerful Weather was so well made that I'd have had no idea it was so low budget.) But later I thought, well you do a little, but sub-consciously. You don't expect All Things to All Men to look as great, or have as awesome action sequences, or have as big stars as a $100 million American thriller. But then you do hope they'll use their micro budgets to maximum effect. And All Things to All Men kind of does.
It is called The Deadly Game when aired on Sky.
© Derek Winnert 2013 Movie Review
Check out more reviews on http://derekwinnert