Alien: Covenant – Preview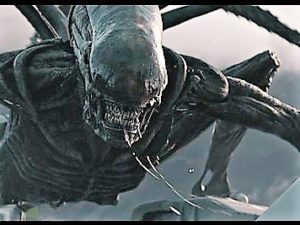 In space, maybe no one can hear you scream, but what we can hear is the scream of great rejoicing in the serious sci-fi universe that Ridley Scott is returning as director for his third Alien film, Alien: Covenant, the sixth installment in the Alien series, ready to be released on 12 May 2017 in the UK and 19 May 2017 in the US.
I was watching the trailer in the cinema the other day, and you could hear the audience was actually excited as a great buzz went across the theatre on Ridley Scott's name. The other excitement of the trailer is that everything looks so like Alien, the look, the style, the scenes – and the alien! I can hardly remember a recent movie I am so looking forward to.
So, first, who's counting? Well I am, or trying to. As the second installment in the Alien prequel series, Alien: Covenant is the sequel to Scott's 2012 film Prometheus, in the first of three new sequels that will lead up to his original film Alien (1979). Wow! This is an undertaking on a par with James Cameron's four in-the-works sequels to Avatar (2009).
I always thought it was a huge shame that Scott abandoned the Alien franchise after his thrilling commercial movie breakthrough with the original movie, which is undoubtedly still the best feature in the series. James Cameron's Aliens (1986) is a great sequel, a fantastic sci-fi action thriller, but it's not quite in the class of Scott's movie. I wonder if the two men feel they are in competition. Who would win?
You get the idea that Scott is a shade reluctant to return to making a direct Alien sequel. When Scott made Prometheus, he seemed keen to distance it from the Alien franchise, seeing it as stand-alone one-off movie. He greatly disliked Alien 3 (1992), perhaps thought the whole Alien thing was played out, wanted to try something new, and so thought of Prometheus only as Alien universe prequel.
But there must have been enormous pressure on Scott, both financially by the studio, Fox, and in his own creative head, to go directly to Alien, and have Alien in his movie's title. So, eventually, he came up with the idea of making a 'sequel-substitution', which eventually then became Alien: Covenant after many rewrites.
In 2012, before the release of Prometheus, Scott hinted about a sequel that would follow the story of archaeologist Dr Elizabeth Shaw, the crew member of the destroyed Prometheus, to her next destination, 'because, if it is paradise, paradise cannot be what you think it is. Paradise has a connotation of being extremely sinister and ominous.' At this point, Scott planned the title as Alien: Paradise Lost.
However, things change, and change a lot in Scott's Alien universe. The buzz on Alien: Covenant started way back in September 2015 when Scott finally revealed that he was planning two sequels to Prometheus, which would lead back into the first Alien film – 'maybe even a fourth film before we get back into Alien.'
Then in November 2015 he confirmed that Alien: Covenant would be the first of three additional films in the Alien prequel series, before linking up with Alien. This is all brilliant news. Scott is 79 and is scarily energised for a man of his age, but this is an enormous undertaking for a man half his age. However, Scott works fast and hard, he's a tough guy, and the best films he makes are tough films. That's why we like him.
Scott again stars that unique favourite actor Michael Fassbender as Walter, a synthetic android created by the Weyland-Yutani Corporation, who assists the crew aboard the Covenant. Fassbender will have plenty to do, as he also reprises his role as David, an earlier-made, prototype android, formerly a crew member of the destroyed Prometheus.
Katherine Waterston lands the key Sigourney Weaver-style role as Daniels, a terraforming expert aboard the Covenant, who is married to the ship's original captain, Jacob Branson, who is played in a brief unbilled cameo by James Franco, in a welcome rare return to serious work as his comedy career is in hyper-drive. It is good news too that the underused Billy Crudup plays Christopher Oram, the first mate of the Covenant, and another comedy actor, Danny McBride, is Tennessee, the Covenant's chief pilot.
Only Fassbender, Guy Pearce and Noomi Rapace reprise their roles from Prometheus. Pearce plays Peter Weyland, the billionaire founder and CEO of Weyland Corporation (now the Weyland-Yutani Corporation), who died before the Prometheus was destroyed. Rapace plays Dr Shaw but her role has vanished along with the plan to follow her story.
Okay, come on guys, it's a good old-fashioned creature feature, right? It's Alien! The teasing Mr Scott originally stated that the film would feature none of the original xenomorph creatures: 'The beast is done. Cooked,' he said. Now, however, Scott has excitingly confirmed that the movie does include the xenomorphs. And he promises that the Prometheus sequels will reveal who created the xenomorph aliens.
Fassbender has revealed that a new type of alien creature will appear, referred to as a neomorph. Going down in history, Goran D Kleut plays the role of both the Neomorph and the Xenomorph in costume and on set, while Javier Botet portrays the Xenomorph via motion capture.
Scott has his own UK studio, but the film was shot in Sydney, Australia, at Fox studios, attracted there by huge Australian government grants, and on New Zealand locations. Judging from the trailer, it is going to look awesome, and just for good measure, it will receive an IMAX 70mm release, where no doubt it will look awesomer.
In a cinema space near you, quite soon, probably you will hear me scream with joy.
Review: Alien: Covenant.
© Derek Winnert 2017 Classic Movie Review 5426
Check out more reviews on http://derekwinnert.com