Alien: Covenant **** (2017, Michael Fassbender, Katherine Waterston, Billy Crudup, Danny McBride) – Movie Review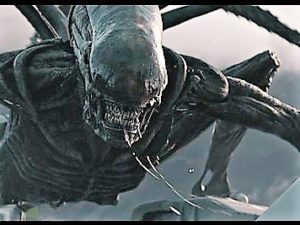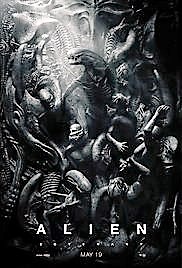 To general rejoicing, the 78-year-old Ridley Scott returns to the Alien franchise with a sequel to his 2012 Prometheus, and a prequel to his Alien (1979). Depending on how well it does, and how much energy and time he has, he is planning another two or even three movies to get us back too the start at Alien, possibly even CGI-ing Sigourney Weaver to make her look younger for the prequel.
After all the incredibly hard work in the past five years, Alien: Covenant is all very neat and tidy, a sharp and seamless, brilliant looking, heart-pounding scare ride. Mr Scott gives the fans exactly what they are after – more alien action. It's full-on, nail-biting horror monster movie stuff that had the packed preview theatre speechless, quite a feat since it included a bunch of film critics, who normally never stop talking. Honestly, I can't imagine anyone making a better job of Alien 6 than Scott does here.
If Alien: Covenant is  a case of deja vu, and slightly less than essential, it's only because it's a franchise's sixth episode, and a linking one between there and here. Scott gets over this by playful references to Alien. But that's about the only playful we get. Like Covenant, Scott just doesn't have a sense of humour. They are both very, very serious items. It is all extremely dark, bleak and horrific, a shocking vision of a hellish universe. That's why we love both Alien and Scott, a perfect match.
Covenant falls heavily on the shoulders of Michael Fassbender, who plays two roles, the seemingly nice American-speaking robot aboard the spaceship Covenant and the creepy English-speaking robot David, one of two survivors of the disastrous Prometheus mission ten years earlier. Hey, look, we've seen the Alien films, robots aren't to be trusted!
With the two main roles to play, Fassbender is more or less the whole movie. Fassbender was the outstanding feature of the performers in Prometheus, so he deserves this promotion and, of course, he is up for it, it's a double tour de force. [Did he get paid twice, I wonder?] That gives Katherine Waterston (Daniels) problems to make a super impact as the Sigourney Weaver/ Noomi Rapace substitute. She is OK but, it's still Weaver 10/10, Rapace 9/10, Waterston 7/10.
Billy Crudup (Oram) and Danny McBride (Tennessee) make a bit of impact,. They are both OK too, quite impactful, but probably not as much as hoped. Demián Bichir (Lope), Carmen Ejogo (Karine), Jussie Smollett (Ricks) and Callie Hernandez (Upworth) are just background wallpaper. So it is kind of not about the characters. Was it ever? They are just there to do barmy stuff and get killed off, like John Hurt, Harry Dean Stanton and co 40 years ago.
The less you know about the plot of Covenant, the better. What can I safely tell you? The captain of the colony ship Covenant, bound for a remote planet, is horrifyingly fried to death in his space capsule. The weak and ineffectual second officer Oram (Billy Crudup) takes over and makes a disastrous decision, fervently opposed by Daniels (Katherine Waterston), to respond to a message that makes the crew land on an uncharted paradise.
Of course paradise turns out to be hell, and, by the time they've woken up to the danger it may be too late to escape with their lives. And so, satisfyingly, the plot plays out like a mix of Alien and Prometheus, with situations, characters, monsters, designs, scenes and resolution all pretty much the same. Just to replay the two movies for a third one is cheeky but still satisfying and quite clever.
Oh there's a signal from a weird planet, let's respond to it! Oh, heck, it's an alien, let's shoot it with old-fashioned guns. Oh, hell, it's after us, let's run. Thank God, we're back on the ship, but oh, darn, so's the friggin' alien, let's chase it! So now you know! That is the plot. The trick is to make that still fresh and fun, and that's exactly what Scott does. Aliens? Don't you just love 'em?
Jed Kurzel's score, by turns eerie and pounding, is a huge success, supervising art director Ian Gracie's work is beyond reasonable imagination (also take a bow art directors Jacinta Leong, Adam O'Neill, Charlie Revai and Damien Drew) and director of photography Dariusz Wolski's cinematography is astounding. It is a true lovingly crafted work of art.
Did I say clearly that I enjoyed it? I think I'll see it again in a couple of days. It's that good.
© Derek Winnert 2017 Movie Review
Check out more reviews on http://derekwinnert.com