Algiers **** (1938, Charles Boyer, Hedy Lamarr, Sigrid Gurie, Joseph Calleia, Gene Lockhart) – Classic Movie Review 4297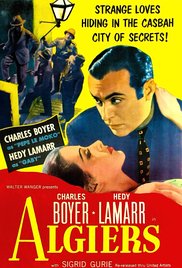 Director John Cromwell's sleek and shiny 1938 escapist adventure stars Charles Boyer as Algiers Casbah thief Pépé le Moko, who falls in love with the beautiful Gaby (Hedy Lamarr) – understandable but a mistake – in this wildly romantic Hollywood remake of the 1936 Jean Gabin French classic Pépé le Moko.
It is perhaps surprising that the material works so well again without the doom, the gloom, the poetry and the sheer Frenchness of the original. But it does, thanks to the ideally cast Boyer (who does not actually say the infamous line 'Come wiz me to zee Casbah'), the strong support (especially of Joseph Calleia as Inspector Slimane, the dogged cop on Pepe's trail and Gene Lockhart as the informer Regis), Walter Wanger's lavish production, striking black and white cinematography, marvellous set designs and Cromwell's moody, atmospheric direction.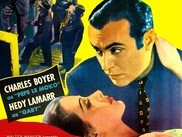 There were four Oscar nominations – Best Actor (Boyer), Best Supporting Actor (Lockhart), Best Cinematography (James Wong Howe) and Best Art Direction (Alexander Toluboff).
Also in the cast are Sigrid Gurie, Alan Hale, Joan Woodbury, Claudia Dell, Robert Greig, Stanley Fields, Leonid Kinskey, Walter Kingsford, Paul Harvey, Bert Roach and Luana Walters.
It was made again as Casbah (1948) with Tony Martin, Yvonne De Carlo and Peter Lorre.
© Derek Winnert 2016 Classic Movie Review 4297
Check out more reviews on http://derekwinnert.com