After Earth ** (2013, Jaden Smith, David Denman, Will Smith, Sophie Okonedo) – Movie Review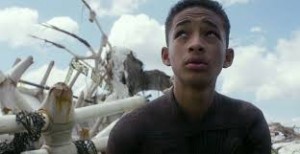 Father son team Will Smith and Jaden Smith lead M Night Shyamalan's critically bashed box office flop.
As feared after its poor American box office, After Earth is a dull, plodding showcase for the eager-to-please, puppyish 14-year-old Smith kid, Jaden, who's frustratingly top billed when of course it's really his dad Will we all want to see. Try as hard as he can, the likeable Jaden can't really fill this costly film's empty vistas.
No doubt as his reward for The Karate Kid (where he was very effective), Jaden Smith stars as wonderboy space cadet Kitai Raige in his real-life dad Will Smith's pet project, a junior-league post-apocalyptic sci-fi adventure that has Jaden doing all the running about on a planet Earth plagued with various monsters and creatures, while his film dad Cypher (Will Smith) lies severely injured in their crash-landed spacecraft.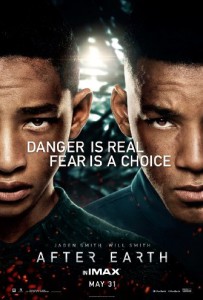 The monsters and the peril situations Jaden faces as he runs across the jungly and watery terrain to get a gizmo that will call for the help his dad needs are entirely unsurprising, non-scary, mechanical and second hand. Despite all the money lavished on the film, the production designs and CGI are far from impressive or inspired and the thin little story (by Will Smith) has a job filling just over an hour and a half, even with a lot of talky padding.
Alas, poor Will Smith. He doesn't look well, has to lie around growling some daftly pretentious dialogue ('Fear is not real, danger is very real, but fear is a choice') and can't do the three things he does best and we love, making us laugh, running around and displaying his macho fighting skills. Jaden does run quite nicely, but acting-wise, he's hard stretched to show more than one expression, which is looking as though he's about to burst into tears. Though, to be fair, that's what the script asks of him. Without any screen time to be effective, Sophie Okonedo plays the boy's mother and Zoe Kravitz his dead sister, but nobody else even gets a look in.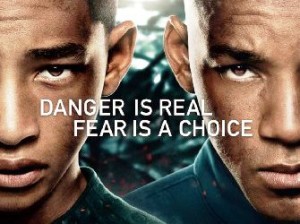 Director M Night Shyamalan isn't really to blame for this disappointment; he's only doing his job here, a hired hand to put some polish on the Smith efforts. Admittedly, that polish is pretty much entirely missing, so maybe he really to blame for this after all. Some much flashier action director might have done something with this, but I doubt it. With Will Smith crippled at the start, this film's an earth-bound non-flier.
To be fair though, even if there isn't much for adults to enjoy here, kids around Jaden's age might find it's entirely acceptable as a modest adventure story.
It cost a whopping $130million and took only $60million at the US box office.
© Derek Winnert 2013 Movie Review
Check out more reviews on http://derekwinnert.com