Adventureland **** (2009, Jesse Eisenberg, Kristen Stewart, Ryan Reynolds, Kristen Wiig, Bill Hader) – Classic Movie Review 4317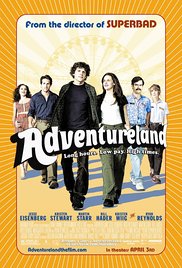 You'll laugh, you'll cry, you'll be moved if you check out writer-director Greg Mottola's delightful 2009 bitter-sweet comedy, set in the summer of 1987. It is advertised as 'from the director of Superbad'.
Jesse Eisenberg (Zombieland) hits the bull's-eye as James Brennan, a recent college graduate who gets a summer job at a local decrepit theme park after his plans to tour Europe fall through. Things don't necessarily get any better when he falls for troubled co-worker Em Lewin (Kristen Stewart, in a break from the Twilight series) because it turns out she is having an affair with the camp's resident lady-killer Mike Connell (Ryan Reynolds).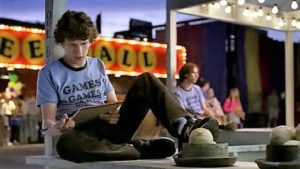 It is one of those American coming-of-age films that depend totally on expertise and subtlety of acting, mood and script. All are nigh-on perfect. Eisenberg and Stewart produce wonderfully delicious, sensitive, understated performances, and Reynolds is an asset in a difficult, unsympathetic role.
As funny as it is touching and intelligent, Adventureland is well worth a detour to discover.
Also in  the cast are Kristen Wiig as Paulette and Bill Hader as Bobby.
© Derek Winnert 2016 Classic Movie Review 4317
Check out more reviews on http://derekwinnert.com