Admission (2013, Tina Fey, Paul Rudd) – Film Review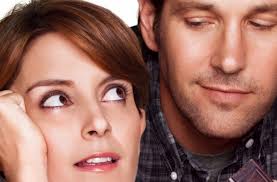 Paul (About a Boy) Weitz's niche comedy focuses on a middle-aged woman who's spent the last 16 years vetting applications from brilliant young aspiring students desperate to get into the elite Princeton University. Tina Fey plays the woman, and very well too, brisk, brittle, busy and businesslike.
But she's a woman on the wrong path in life and her world's about to come tumbling down – only to build up again, except of course much, much nicer. For this seems like real life, but actually it's a movie fable about messed-up folk cobbling together an unconventional family and thus finding true happiness.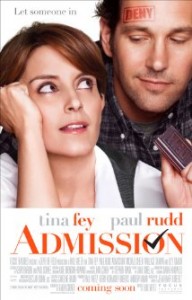 Fey's world's about to come tumbling down. This is because: (1) Her boring long-term boyfriend Michael Sheen dumps her for a Virginia Woolf expert expecting twins. (2) She reconnects with her sweet old college classmate Paul Rudd, an idealistic teacher who wants his gifted student Nat Wolff to get into Princeton. (3) Then, when Rudd tells her the kid is the son she gave up for adoption years ago, she bends the admission rules to get him into the uni. And (4) she also starts to reconnect with her hippy mother Lily Tomlin.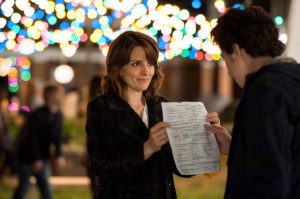 Unusual stuff, this, more or less unique, it gets most of its most entertaining mileage out of the admissions procedure and college detail in the first half of the story. It feels like insider information we're being privileged to hear, and so it is. The author of the original 2009 novel Jean Hanff Korelitz is married to a Princeton professor and herself worked as a reader in the uni's office of admissions.
All the start is good, intriguing and amusing, then, but without actually being very funny – the screenwriter Karen Croner is a past expert in writing dramas but finds it difficult to take dramatic material and make it funny here. Indeed the film's much more successful as a drama than a comedy. It's not that the script isn't smart, clever and witty – it is – it's just that it isn't really ever very funny. Amusing, yes, funny no.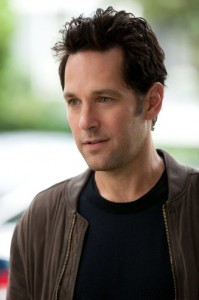 This obviously gives the actors some problems, especially the ones looking for laughs, like Fey, Rudd, Tomlin and Sheen. In a story and screenplay written by women, and aimed at women, it's very clear that the women's roles are loads better written, and much more substantial than the men's. Two really likeable players, Rudd and Sheen, have fairly thankless tasks as support acts to Fey, with not enough to do, either in lines or scenes or in anything actually fun. It's not surprising that they aren't seen at their best then, though Rudd still manages to come up with something.
Fey is very good, and so (less so) is Tomlin – it's satisfying to have her back on screen again. But there's too much weight on Fey's admittedly capable shoulders here, especially when a couple of the major plotline strands are totally unbelievable, leaving her fairly stranded.
Still, with all its faults, this is a nice little film, a decent time-passer.
I leave you with Weitz's words of wisdom: 'We can either get over our germ phobia and link hands or go flying off the centrifuge.'
(C) Derek Winnert 2013 derekwinnert.com