Ace Ventura: When Nature Calls ½ (1995, Jim Carrey, Ian McNeice, Simon Callow, Maynard Eziashi, Bob Gunton, Sophie Okonedo, Tommy Davidson) – Classic Movie Review 4119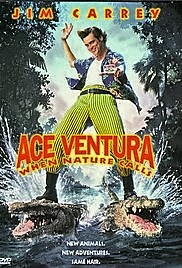 Jim Carrey's pet detective Ace Ventura heads for the hills to find an abducted sacred white bat and keep the peace between African tribes, in writer-director Steve Oedekerk's defiantly non-PC, non-funny 1995 sequel.
Exuberant but repellent, this puerile spoof wastes talented funny man Carrey and leaves likeable British performers Ian McNeice and Simon Callow desperately floundering as Fulton Greenwall and Vincent Cadby.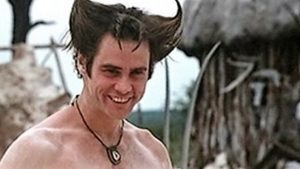 Even worse than Ace Ventura: Pet Detective (1994), When Nature Calls is motoring on a basic mix of stupid slapstick and sexual innuendo and is strictly teenager playground humour that will probably repel most adults. Nevertheless, after over a decade in the movies, it confirmed Carrey's status as a superstar. The Mask, Dumb & Dumber and Batman Forever had come between the two Ace Ventura movies. Carrey was on a roll.
Also in the cast are Maynard Eziashi, Bob Gunton, Sophie Okonedo, Adewale Akinnuoye-Agbaje, Bruce Spence and Tommy Davidson.
Worse it may be, but it was even more popular than the first one, taking even more in the US – $108 million, compared with the original's $72 million. But it cost a lot more – $30 million against the original's $12 million.
Carrey was ill a lot during filming, affecting Callow, whose contract ended before he finished his scenes. He was working in London, so he agreed to fly back to America regularly first class, but with no overtime pay. Callow found the plane tickets were deducted from his salary and he 'finished up working almost for nothing'.
© Derek Winnert 2016 Classic Movie Review 4119
Check out more reviews on http://derekwinnert