Ace Ventura: Pet Detective * (1994, Jim Carrey, Courteney Cox, Sean Young) – Classic Movie Review 4118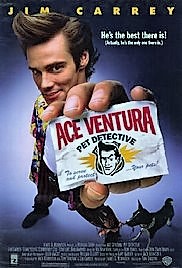 Co-writer/ director Tom Shadyac's puerile 1993 comedy is a series of idiotic, juvenile, and often offensive low-jinks, with an infuriatingly smart-aleck central performance by Jim Carrey as Ace Ventura, the goofy private detective who concentrates on missing animal cases. Here Ace Ventura is hot on the trail of Snowflake the dolphin, the kidnapped prize mascot of the Miami Dolphins football team.
Infuriatingly smart-aleck he may be, but nevertheless, however, after over a decade in the movies, including two tiny roles in Clint Eastwood films (The Dead Pool, Pink Cadillac), Ace Ventura turned Carrey into a superstar overnight. And of course it was a vastly sizeable hit back then in the United States, where teenagers enjoyed its lowbrow locker-room humour. It cost $12 million and grossed $72 million just in the US, though it did much less well worldwide, putting on only another $35 million for a $107 million total.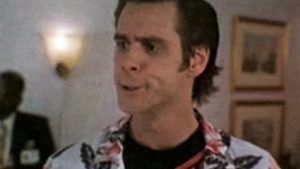 Carrey is a potentially talented star comedy act, but he sidesteps his natural charm here to motor on pent-up rage and spiteful humour. It has a UK 12 certificate and a PG-13 in the US for off-colour humour and some nudity. Anyone over the age of 12 is probably over the stage of finding making cheesy grins, pulling faces and talking out of your arse funny. But if you are under 12 the film's smut content makes it unsuitable viewing.
Sean Young is down on her luck as a tough female cop, Lieutenant Lois Einhorn, and she is involved in the offensive stuff parodying The Crying Game (1992). It is a crying shame more like!
It co-stars rap artist Tone Loc (as Emilio) and football hero Dan Marino (as himself), along with a pre-Friends Courteney Cox (as Melissa Robinson), Noble Willingham (as Riddle), Udo Kier (as Ron Camp), Raynor Scheine (as Woodstock), Troy Evans (as Roger Podacter), Frank Adonis as Vinne, Tiny Ron as Roc, David Margulies (as doctor), John Capodice as Sgt. Aguado, Judy Clayton as Martha Mertz, Bill Zuckert as Mr Finkle and Alice Drummond as Mrs Finkle.
There is a PG-13 warning for off-color humour and some nudity.
It was followed by Ace Ventura: When Nature Calls (1995).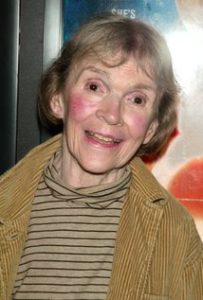 Veteran character actress Alice Drummond, who plays Ray Finkle's eccentric mother Mrs Finkle in Ace Ventura: Pet Detective, died on November 30 2016, aged 88.
© Derek Winnert 2016 Classic Movie Review 4118
Check out more reviews on http://derekwinnert