Absolutely Fabulous: The Movie **½ (2016, Jennifer Saunders, Joanna Lumley) – Movie Review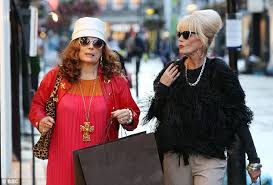 Jennifer Saunders and Joanna Lumley belatedly hit the big screen as the horrific, monstrous London media stereotypes Edina and Patsy, who are growing old disgracefully. They are the St Trinian's older gals.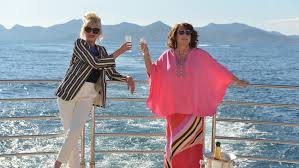 Saunders writes the screenplay too, her first ever for a feature film, in which PR to the stars Edina is totally short of money and clients, what with only having Lulu and Emma Bunton. So she targets Kate Moss at a fashionable launch party but accidentally tips her over the side into the Thames, apparently killing her.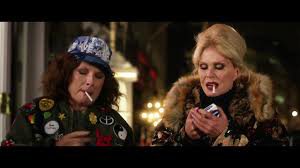 The duo are arrested but the copper (Robert Webb) in charge turns out to be the boyfriend of Edina's long-suffering daughter Saffron (Julia Sawalha), so they get back home, surrounded by paparazzi, and with Edina facing a (wo)manslaughter charge. There's nothing for it but for Edina and Patsy to get the hell out of the country, thinly disguised as their best friends, hoving up at playground of the rich Cannes, where the rest of the cast promptly turn up.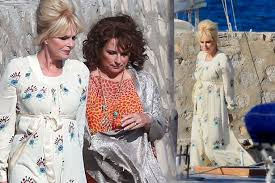 With no resources but endlessly resourceful, Patsy, now sporting a suit and moustache, and still looking great, finds a wife in the richest woman in the world, and they marry so she can get her hands on the tiny old gal's dough.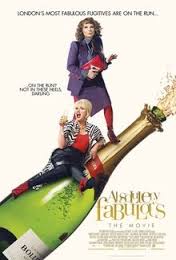 Saunders and Lumley go to it with a venomous energy and will, making fairly drossy, patchy material, well not exactly comedy gold, but flashy tinsel anyway. Though there's not much of a plot (just Edina kills Kate Moss! and that's it), there are quite a lot of laughs, some of them bit tawdry and shameful. But it keeps you interested and on its side, though you keep on hoping it will be better, classier, funnier than it is.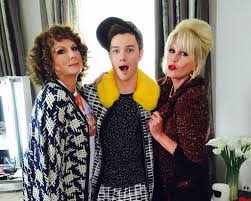 Yet it is a bit better than expected, it is a bit better than the trailer suggests and it is a bit better as a fashion satire than Zoolander 2, though that isn't saying too much. Is there such a thing as a movie with too many celebrity cameos and appearances by chums? Yes there is and this is it.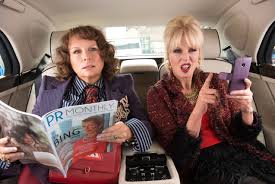 Sawalha and Webb have a thankless task in unfunny roles, and there's nothing really for Celia Imrie as rival PR Claudia Bing and Kathy Burke as fashion queen Magda to do, certainly nothing funny. The 90 drag queens featured in the film just seem to be dragged in and dumped there in the Vauxhall Tavern. 
Saunders leaves all the laughs for herself and Lumley, and luckily they're pretty darned good at it. Saunders is a comedian, but how did Lumley become funny? She really puts everything and more into it. She's a 110 per cent gal.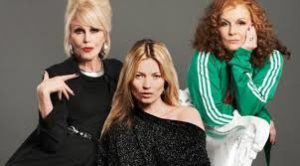 It is released 24 years after the TV show began and four years after its last episode.
Fletcher's last film is Deadly Advice (1994). She directed all the episodes of the final season of the TV series.
© Derek Winnert 2016 Movie Review
Check out more reviews on http://derekwinnert.com