About Time *** (2013, Domhnall Gleeson, Rachel McAdams, Bill Nighy, Margot Robbie, Tom Hollander) – Movie Review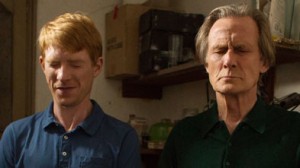 Domhnall Gleeson stars as a nice middle-class 21-year-old English lad, Tim, who, the night after another bad New Year party at his idyllic family home in Cornwall, is told a big fat, thrilling secret by his father Bill Nighy.
Apparently, now don't laugh, the men in the family have the ability to travel through time, though only back. So Tim can't change history, but he can change what happens and what has happened in his own life.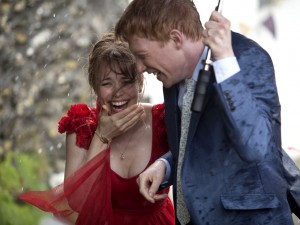 Tim is a small-time thinker. His idea of making the world a better place is finding himself a girlfriend, since he totally failed with his first young passion, the devastating house guest Charlotte (Margot Robbie), even with time-travel help.
So then, he travels (by train, not through time, in case you're wondering) to London to train as a lawyer, lives with his dad's annoying playwright buddy Harry (Tom Hollander), who's a grumpy, self-obsessed old sod. Somehow, Tim forgets it's Harry's opening night, which was a disaster because the actor dried for half an hour.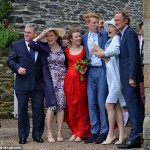 Tim'll fix it, jolly quick, though, nipping over to the Old Vic to sort out the late, scarily overweight Richard Griffiths and Richard E Grant, playing themselves, I guess. (Weren't they in Withnail & I together?) The play looks a stinker by the way. (This is all a little bit funny, if very untruthful. What actor would dry on stage for half an hour? I ask you! Don't they have prompters at the Old Vic?)
Tim finally meets the girl of his dreams in a darkened basement restaurant. She's the beautiful but insecure and incredibly badly dressed American woman Mary (Rachel McAdams). She's also a Kate Moss fan, which is a clue to how he's going to find her again. There are Kate Moss photo exhibitions? (You think is going to lead to a cameo by Moss, but it doesn't.)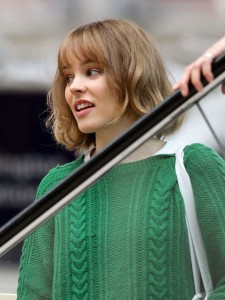 Tim and Mary, not quite contrary, soon fall in love, but unfortunately a time-travel incident means they haven't met at all after all. So they keep meeting over and over, but somehow anyway they manage to get married and have loads of babies. Everything's going pretty swimmingly, about time too! They're such a desperately nice couple they never once have a cross word.
But then Tim's dad's got a life-challenging problem that's going to affect everybody else, unless of course a bit more of the time-travel stuff can save him. What do you think?
Writer-director Richard Curtis is definitely struggling here, struggling to find a coherent story, big laughs and poignant moments. And all three should be flowing easily and effortlessly in abundance.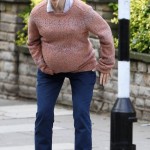 The trouble is the second-hand time-travel idea gets in the way of the kind of tender, truthful comedy he's after. Curtis doesn't actually seem interested in the time-travel idea at all; it's just a convenient device to move the story on and get laughs. The time-travel idea he provides here doesn't actually make any sense – and then he cheerfully changes the idea as he goes along, with crucial new rules being announced late on that weren't explained at the start. Sci-fi fans will be aghast.
After not nearly enough laughs spread over two hours, About Time ends up in the most cloyingly sentimental and weak way, caught delivering some dumb message about seizing the moment in time, looking at the scenes of your life from a positive viewpoint, or something like that. Oh please!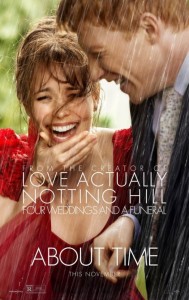 It's Curtis's weakest film, way, way down from Four Weddings and a Funeral, Notting Hill and Bridget Jones's Diary, and way down from Love Actually and The Boat That Rocked.
In a huge role, Gleeson does pretty well to keep charming and amusing enough, and not too boring. But he is exposed by the thinness of Curtis's writing.
McAdams has nothing to do, except look lovely and look adoringly on Gleeson. Presumably McAdams is cast only because she's a convenient American star, and because she previously starred in The Time Traveler's Wife and Woody Allen's Midnight in Paris (where a screenwriter time travels).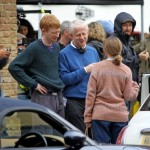 Curtis's writing for his female characters here is no good at all. Margot Robbie's Charlotte is just a pretty cipher too, there to be lusted after, and poor Lindsay Duncan is around a lot but has no good lines or character to play. She's just Tim's Mum, so that's apparently enough. All three of these actresses seem to be doing an Olivia Twist and begging for more.
Curtis's main strength has always been writing funny gags, I guess. About Time's plot and script construction are weak and deficient. After some while, Curtis just gives up on the Harry character, as he's served his purpose, which was to get a few easy theatrical-type laughs. And Curtis soon gives up on the legal angle that he's promisingly started by introducing Tim's lawyer-training situation and his new law buddy. The joke is there that Tim can't shake this loser off because he's too nice, so he's stuck with him as a friend.

It's all a fault of script construction. Curtis's script, even as it is, would have benefited from being handled by another director who'd have come in with a fresh, beady eye on it.
Bill Nighy is always a class act, almost always gives a classy performance, but, though he's good value, this time you feel he's been doing this kind of role too often. That's yet more déjà vu in a been-there-done-that-and-better kind of movie.
You really expect to see Hugh Grant popping in at any moment. And, in many ways, I wish he had.
© Derek Winnert 2013
Check our more reviews on derekwinnert.com