A Woman of Affairs **** (1928, Greta Garbo, Lewis Stone, John Gilbert, Johnny Mack Brown, Douglas Fairbanks Jnr) – Classic Movie Review 5329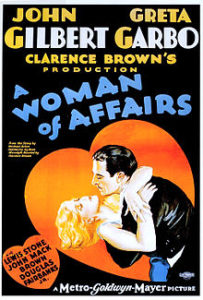 Director Clarence Brown's diverting and enduring 1928 silent movie stars a vivacious Greta Garbo as Diana Merrick, a reckless English socialite with a bad reputation founded on her silence about her husband (Johnny Mack Brown), who has killed himself for embezzlement.
John Gilbert plays Garbo's real love, Neville Holderness, and Douglas Fairbanks Jnr plays Geoffrey Merick, the boozy playboy who also admires her. It co-stars Lewis Stone, Hobart Bosworth, Dorothy Sebastian and Roy D'Arcy.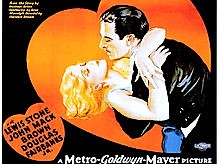 The polished performances from a top-line cast and the equally polished direction, as well as a sleek MGM production, compensate for the daft soap opera-style plot, based on Michael Arlen's then shocking 1924 best-selling novel The Green Hat, with title, character names and the husband's death from syphilis changed to protect the public. Also the script eliminated all the novel's references to heroin use and homosexuality. However, Michael Arlen and Bess Meredyth's script was nominated for an Oscar for Best Writing.
Silent it may be but it was released with a synchronised score and sound effects.
Arlen had adapted his novel as a four-act stage play in 1925.
It proved the first of Garbo's seven films with co-star Stone.
In 1934, MGM re-made it with Constance Bennett, as Outcast Lady.
 © Derek Winnert 2017 Classic Movie Review 5329
Check out more reviews on http://derekwinnert.com