A United Kingdom ***½ (2016, David Oyelowo, Rosamund Pike, Jack Davenport, Tom Felton, Nicholas Lyndhurst ) – Movie Review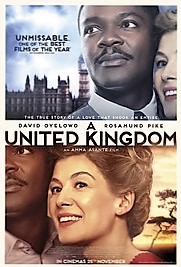 David Oyelowo stars as Prince Seretse Khama of the British protectorate of Bechuanaland, (now Botswana) who causes a big political and personal rumpus when he meets, romances and then marries white London woman Ruth Williams in the late Forties.
Oyelowo is ideally cast and ultra solid in his portrait of honest, good hearted determination, juggling love with duty, though Rosamund Pike seems a shade too glamorous, posh and film starry to be playing humble commoner Ruth, but she goes to it with a will, as well as grace and charm.
The film has an outstanding story to tell, though Guy Hibbert's screenplay keeps things light and popular as a period romantic drama rather than a political or racial issue film, though there is probably enough of both of those too for a 110-minute film, with plenty of facts delivered and fingers pointed.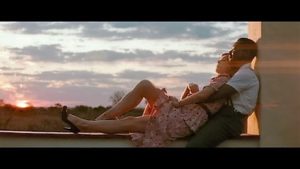 It is not a bad script, indeed it is good, strong and honourable, but Hibbert's screenplay for Eye in the Sky was sharper, more urgent, more dangerous. There's a slight air of the BBC classic drama about the film, concentrating on the period clothes and scenery (which they have to, of course) that starts making it feel like a Downton Abbey special. We never feel a sense of how it really was for these two people, generally or at various specific crisis points. I never learned how London or Bechuanaland felt or smelled at the time. Characters are not always fully fleshed, veering to stereotypes, slightly damaging the film's credibility and authority.
Amma Asante directs attentively but not urgently enough, or rigorously, or excitingly enough. There's a sharper, darker, angrier film trying to get out from under this one. Blaming the Brits for liking sherry is amusing but it is lame and slack too. The film needs to get more of a rage on about Prime Minister Clement Attlee's opportunistic stance and Churchill's betrayal when he took over in power, and about the Brit administrators who actually more or less imprison Seretse by exiling him in the UK. Come to that, the film needs to get more of a rage on about racism, but then that would be a lecture not a film.
I like the political in-fighting more than the romance in the movie. It is simply more interesting, and the film never really gets a hold on the all-conquering love between Seretse and Ruth. I know it's the Forties and Fifties, but a lot more passion would be good in the romance, along with the rage in the politics.
A commanding Jack Davenport enjoys a great villain role as the evil British administrator in Bechuanaland, Sir Alistair Canning, encouraging you to boo and hiss every time he appears. Lesser villains are played by Tom Felton as another Brit colonial bad guy Rufus Lancaster and by Nicholas Lyndhurst as Ruth's racist dad George Williams. Neither are particularly well cast or especially good, but then their roles are thinly sketched.
But Laura Carmichael hits the bright and breezy spot as Ruth's sister Muriel Williams. And, though I somehow missed that Jack Lowden is playing Tony Benn, I am now glad to know that and encouraged by his hero status in the story.
The film looks good, but it was getting lost on the huge Odeon Leicester Square screen, with empty spaces in many of the compositions that made it sometimes look surprisingly dull. Visually, it will suit TV better, probably its natural home. Nevertheless, this is a good and worthy film, worth anyone's time both as a romantic and political drama and as a history lesson.
© Derek Winnert 2016 Movie Review
Check out more reviews on http://derekwinnert.com