A Study in Terror *** (1965, John Neville, Donald Houston, John Fraser, Robert Morley, Cecil Parker, Anthony Quayle, Barbara Windsor, Adrienne Corri, Judi Dench, Frank Finlay) – Classic Movie Review 4916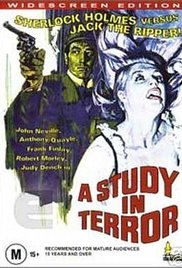 A Study in Terror was made in Britain in 1965 by director James Hill and stars John Neville and Donald Houston as Sherlock Holmes and Dr Watson in a tale about the great detective setting out to unmask notorious serial killer Jack the Ripper. It mixes a new original story with the Sir Arthur Conan Doyle characters and the real-life Ripper case.
Neville and Houston make a very decent Sherlock Holmes and Dr Watson in this neat chiller about the great detective setting out to unmask Jack the Ripper. Characters include Inspector Lestrade (Frank Finlay), Doctor Murray (Anthony Quayle), Mycroft Holmes (Robert Morley), Lord Carfax (John Fraser), British Prime Minister Lord Salisbury (Cecil Parker) and Annie Chapman (Barbara Windsor!).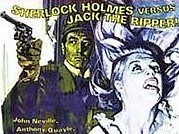 Plenty of incidental detail fleshes out the central plot in Donald Ford and Derek Ford's original story and screenplay. The pleasing film moves along at a compelling pace, with an eerie Victorian London Gothic atmosphere, fine cinematography (by Desmond Dickinson), classy production design by Alex Vetchinsky, a good score by John Scott and a marvellous vintage British cast.
Finlay also played Inspector Lestrade in Murder by Decree (1979), in which Quayle also appears as Sir Charles Warren. It is another film in which Holmes and Dr Watson investigate Jack the Ripper's grisly murders of Whitechapel prostitutes.
Also in the cast are Adrienne Corri (Angela), Judi Dench (Sally), Barry Jones, Georgia Brown, Kay Walsh, Edina Rosay, Terry Downes, Avis Bunnage, John Cairney, Peter Carsten, Dudley Foster (the Home Secretary), Norma Foster, Barbara Leake (as Mrs Hudson), Jeremy Lloyd, Christiane Maybach, Patrick Newell, Corin Redgrave, Charles Régnier and Donna White.
© Derek Winnert 2017 Classic Movie Review 4916
Check out more reviews on http://derekwinnert.com