A Night in the Life of Jimmy Reardon *** (1988, River Phoenix, Ann Magnuson, Meredith Salenger, Ione Skye, Louanne, Matthew Perry) – Classic Movie Review 4092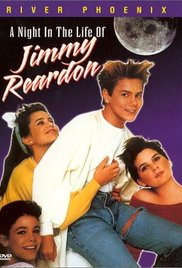 In the Chicago suburb of Evanston (illinois) in 1962, the 17-year-old rabbit-boy Jimmy Reardon (River Phoenix) has got 24 hours to convince the one girl he really loves that he is honest, faithful and true and fully committed.
Writer-director William Richert's 1988 film follows the boy's fortunes as he tries to make some sense of his life in his last summer before college. He is infatuated by a beautiful young socialite, Lisa (Meredith Salenger), mainly because he hasn't got past second base with her. He is seduced by an attractive divorced friend of his mother, Joyce (Ann Magnuson). When Lisa is finally willing to have sex with him, he is unable to comply because he has just made love to Joyce. He then discovers his father is also having an affair with Joyce.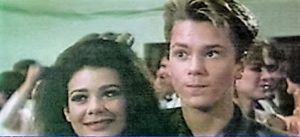 Phoenix does extremely well as the schoolboy sexpot who leaves achieving to his rich buddies (like Matthew Perry) and, instead of going to his father's old business college, plans to head for Hawaii with his girl if only he can raise the money he needs to go.
The rest of the performances are uneven and this intelligently and affectingly written serious-minded teen flick, based on Richert's novel Aren't You Even Gonna Kiss Me Goodbye?, is tentatively achieved. Though it fails to hit the spot consistently, it still maintains enough interest and it does always look good. At least it is a film with more on its mind than the juvenile pranks and drooling titillation found in the youth films with which it has been compared, and it spends little time on the external trappings of the period.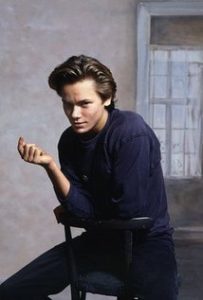 Richert does a fine job capturing the alienation, confusion and desperation that can follow high school, as well as the very real class distinctions that begin to define students' futures. Alas, the young Perry's promising role (in his first cinema movie) fizzles out around half way.
Phoenix (1970–1993) effortlessly commands the screen throughout. He is sorely missed.
Also in the cast are Ione Skye, Louanne, Jane Hallaren, Paul Koslo, Jason Court, James Deuter and Johnny Galecki.
© Derek Winnert 2016 Classic Movie Review 4092
Check out more reviews on http://derekwinnert