A Monster Calls **** (2016, Lewis MacDougall, Sigourney Weaver, Felicity Jones, Toby Kebbell) – Movie Review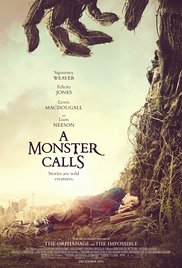 Lewis MacDougall stars as 12-year-old Conor O'Malley, who is greatly troubled by the heavy weight of his burden of impossible problems. He's being bullied at school, his grandma (Sigourney Weaver) is chilly and controlly, his dad (Toby Kebbell) has abandoned him to live in America, his beloved single mum (Felicity Jones) is dying of cancer, and, OMG, he is visited at 12.07 by a scary 40ft yew tree monster (voice of Liam Neeson). And so, now, like Clint Eastwood in Paint Your Wagon, the boy is talking to the trees.
But it turns out that the terrifying monster is a BFG and that it has three stories to tell Conor, and demands that afterwards the boy must tell the fourth story – truthfully and from his heart. The boy isn't in the mood for stories but he starts to listen.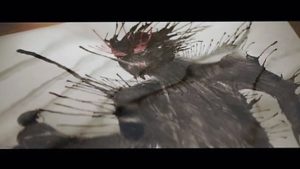 In a beautifully crafted labour of love, Spanish director J A Bayona turns in a sweet, appealing and moving film. MacDougall, Nibs in Pan (2015), has pretty much the entire movie to his little self, so it's just as well he is as good as he is. The impeccable craftsmanship provides the eye-catching visuals that make it a handsome journey, but it's the highly emotional story that is the main attraction.
Based on the award-winning novel by Patrick Ness, the film does achieve what it sets out to be – a touching, healing experience. At the start it seems like a kids' movie but as it goes on it seems a grown-up kind of thing, dispensing wisdom from adults to other adults as well as children. The script is walking on eggs, but they don't break.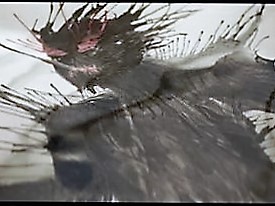 Jones and Kebbell are just right, giving brisk, efficient and economical performances in a possible actors' minefield, though Weaver is battling odd casting to come through later in the film, there's a little role for Geraldine Chaplin as The Head Teacher, and of course Neeson's voice is perfect. But they hardly need to be there. Along with the sets, the animation (for the three stories) and the startling CGI, MacDougall is the star and more or less the whole show.
© Derek Winnert 2016 Movie Review
Check out more reviews on http://derekwinnert.com