A Midsummer Night's Sex Comedy **** (1982, Woody Allen, Mia Farrow, José Ferrer, Julie Hagerty, Tony Roberts, Mary Steenburgen) – Classic Movie Review 3957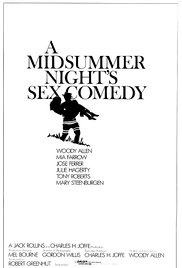 The light comedy of manners A Midsummer Night's Sex Comedy finds writer-director Woody Allen in playful, lyrical mood in 1982, toasting one of his inspirations, Ingmar Bergman, and especially his film Smiles of a Summer Night (1955), with a few nods to Shakespeare's play A Midsummer Night's Dream and Mendelssohn's music 'Midsummer Night's Dreams'. So it is loosely based on Smiles of a Summer Night, or, to put it another way, Allen is raiding Bergman's film for inspiration and comedy ideas.
Allen and Mia Farrow (in her first of 13 films for him) lead the on-form ensemble star cast (José Ferrer, Julie Hagerty, Tony Roberts and Mary Steenburgen) in a beautiful, magical film about the romantic entanglements of three couples enjoying a weekend party at a romantic summer house in the tranquil upstate New York countryside at the turn of the last century.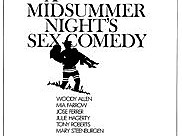 Wacky inventor Andrew Hobbs (Allen) and his wife Adrian (Steenburgen) invite two other couples to their house in the early 1900s – randy doctor Maxwell Jordan (Roberts), his nurse Dulcy (Hagerty), renowned philosopher Dr Leopold Sturgis (Ferrer) and his fiancée Ariel (Farrow). Also in the cast are Tony Farentino, Adam Redfield, Timothy Jenkins and Michael Higgins.
Gordon Willis's brilliant photography is a major asset, in colour again after Allen's two black and white movies, Manhattan (1979) and Stardust Memories (1980). The location is the Rockefeller estate in Pocantico Hills, New York State.
It is Allen's 11th film as director and first movie for the Orion Pictures, whose executives had run United Artists and produced his movies. He wrote the screenplay in two weeks. There are six main characters, cut from eight in the Bergman movie.
Farrow stepped into Diane Keaton's role when Keaton was shooting Reds (1981). Farrow made 12 more movies with her partner Allen, up to Husbands and Wives (1992).
© Derek Winnert 2016 Classic Movie Review 3957
Check out more reviews on http://derekwinnert.com