A Late Quartet **** (2012, Philip Seymour Hoffman, Christopher Walken, Catherine Keener, Mark Ivanir) – Movie Review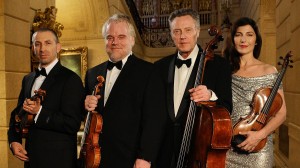 The best film of the week by far is a small chamber work, without a murder, car chase or special effect in sight, but it's a master class in movie making and film acting. Please try and see it.
A world-renowned chamber quartet are preparing for their silver anniversary concert, 25 years of sweet music together. Then tragedy strikes. Their oldest member, the cellist Peter Mitchell, is diagnosed as having early onset of Parkinson's disease. He decides this is going to be his swan song. But the handover is not going to be smooth of course; otherwise there'd be no drama, no movie.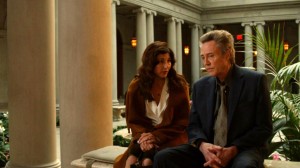 The other members of the quartet react in different ways to his decision to retire, squabbling breaks out and hidden love affairs are revealed. Lust, ego and the Grim Reaper seem to call. There's no calm for sweet music any more. With problems of his own, the cellist, rather reluctantly, finds he has to become the father figure and peacemaker for the group. Sick though he is, he is the healthiest one of them all.
What happens next is a huge credit to first-time writer-director Yaron Zilberman, who provides such a classy, intelligent, heartfelt, deeply moving film, stylishly filmed against rich and beguiling Manhattan backdrops. I felt I was there in the room and on the stage when the quartet were arguing, fighting, playing and loving and crying. Sometimes it felt so 'real 'and so painful that it was like watching a documentary, hardly a fiction at all.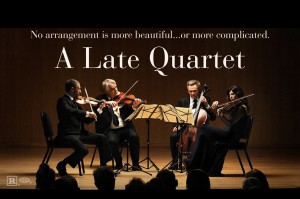 It happened that I saw A Late Quartet the same week I saw Seven Psychopaths. I only mention this because they both star Christopher Walken. He's not the main star in either case, but he romps away with the acting honours in both movies. Maybe I'm prejudiced, hey I like Christopher Walken.
I also mention this because the films show the two Christopher Walkens: Psychopaths shows the Walken we all know and love, the outrageous, OTT, self-parody one. He impersonates this Walken character better, more brilliantly than anyone. As an act, it's quite dazzling, hypnotic actually.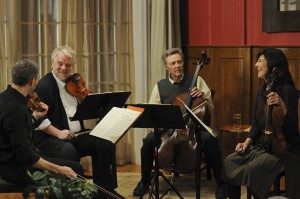 But A Late Quartet shows the Walken we rarely get to see these days – the Oscar-winning actor, who once starred in The Deerhunter and Heaven's Gate. I love both Walkens, but it's great to be reminded of the actor one, and I think he's hardly ever given a better performance. It's perfectly judged, beautifully nuanced, and just marvellous.
It's so exquisite in fact that the other three actors are all upstaged. That probably doesn't happen much to Philip Seymour Hoffman, Catherine Keener and Mark Ivanir but, good, very good though they are here, it's all eyes and ears on Walken. They all play second fiddle to him.
He once said his hair was famous before he was. At 70, he's still got great crazy hair. And we now know he plays a mellow cello.
© Derek Winnert 2013 Movie Review
Check out more reviews on http://derekwinnert.com