A Heart in Winter [Un coeur en hiver] ***** (1992, Daniel Auteuil, Emmanuelle Béart, André Dussollier) – Classic Movie Review 4152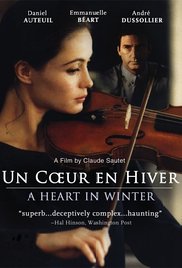 Director Claude Sautet's entrancing 1992 French romance drama stars Daniel Auteuil as Stéphane, a master violin maker, who falls for beautiful young violin playing virtuoso Camille (Emmanuelle Béart) when she brings her instrument for repairs.
But she also becomes involved with his business partner and best friend Maxime (André Dussollier). This leads to a tragic rupture in the men's long-standing inter-dependence. Then it turns out that Béart's Camille is emotionally stifled and can only express love through her music.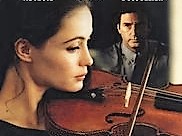 Director Sautet's fine tuned handling transforms this seemingly commonplace material into a provocative, moving and supremely satisfying film. Sautet brings out engrossing performances of the first rank from all three principals, who realise their flawed, often infuriating characters so fully and completely that they manage to make them totally sympathetic.
A credit to the craftsmanship and imagination of French film-making, A Heart in Winter is a complex and adult relationship drama of a level and kind that is seen all too infrequently. The delicate screenplay is by Sautet, Jacques Fieschi and Jerome Tonnerre. The cinematographer is Yves Angelo, the score is by Philippe Sarde, using music by Ravel, the passion of Camille, and the production is designed by Christian Marti.
Sautet is the distinguished director of Classe Tous Risques (1960) and Nelly & Monsieur Arnaud (1995), also with Béart.
© Derek Winnert 2016 Classic Movie Review 4152
Check out more reviews on http://derekwinnert