A Hard Day's Night ***** (1964, John Lennon, Paul McCartney, George Harrison, Ringo Starr, Wilfrid Brambell, Norman Rossington, John Junkin, Victor Spinetti) – Classic Movie Review 1364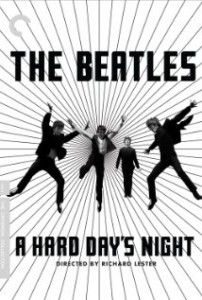 For the Beatles' first and best full-length movie, Richard Lester directs a cunning, cheerfully anarchic black-and-white documentary-style musical fantasy spun around a supposedly typical day and a night in the life of the Beatles. Both silly and corny as well as truly witty, Alun Owen's inventively absurdist screenplay is a hoot.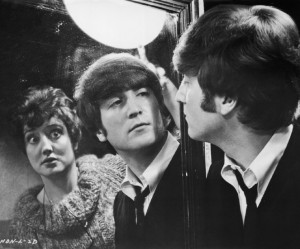 A Hard Day's Night is so vibrant, endearing and magnetic that you almost believe it is all for real, not staged at all. And now it is a sharply focused glimpse at the moment Britain finally started to leave austerity behind and enter the swinging sixties. It's influenced by the French New Wave, Lester's TV advert work, the British TV and music hall slapstick comedy tradition, and documentary film-making, but they all come seamlessly together to provide a unique style of its own.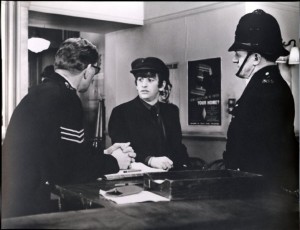 As the Hard Day's Night title track rolls, John Lennon, George Harrison, Paul McCartney and Ringo Starr are mobbed by screaming fans while they run to catch a train from their home town of Liverpool for London, with their manager, his assistant and Paul's granddad also aboard.
Hilariously daft capers ensue, with granddad bribing a hotel butler for his black clothes to use Ringo's invite to go to a casino, Ringo slipping out to wander along the Thames, John disagreeing with a TV producer and the lads all ending up in a police station. The escapades all build up to the film's climax of their big concert for a TV broadcast, with (mostly) young girls in the theatre screaming truly madly at the Fab Four.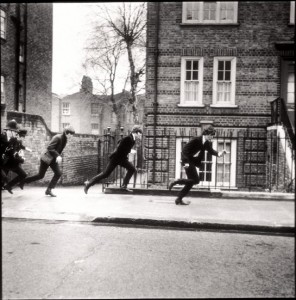 There's an outstanding support cast for British stalwarts of the era. Norman Rossington plays their exasperated manager and Wilfrid Brambell plays Paul McCartney's troublesome granddad. Other treasured surefire comedy performers back the Fab Four, including Victor Spinetti as a harassed and disgruntled TV producer, John Junkin as the manager's assistant Shake, Anna Quayle as Millie and Deryck Guyler as the police station desk sergeant. All of them give great value.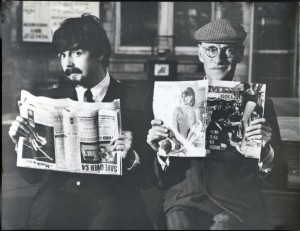 Richard Vernon (businessman on train), dancer Lionel Blair, Harrison's future wife Patti Boyd (a schoolgirl on the train), Phil Collins (seated fan with tie), Susan Hampshire (dancer at disco), Jeremy Lloyd (tall dancer at disco), John Bluthal (car thief), Julian Holloway (TV assistant), Derek Nimmo (magician) and director Lester (man at back of the stage) also appear.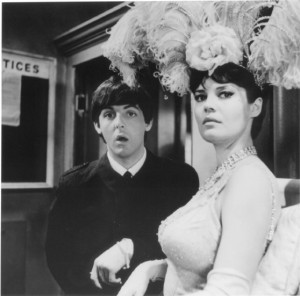 But it's the Beatles' cheeky charisma and the brilliant soundtrack of their evergreen vintage songs ('Can't Buy Me Love', 'I Should Have Known Better', 'I Wanna Be Your Man', 'Don't Bother Me', 'Al My Loving', 'If I Fell', 'And I Love Her' 'I'm Happy Just to Dance with You', 'This Boy', 'Tell Me Why', 'She Loves You', and the title number) that ultimately make it so attractive.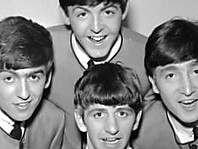 The Beatles are quite mesmerising, with a good way with the nonsense and the crazy dialogue, with, perhaps surprisingly, Ringo outstanding, given a lot to do. John Lennon's acerbic personality comes through forcefully too, while Paul McCartney and George Harrison turn on the charm. For some weird reason, Brambell is given a heck of a lot to do too, some of it a bit creepy, but most of it funny.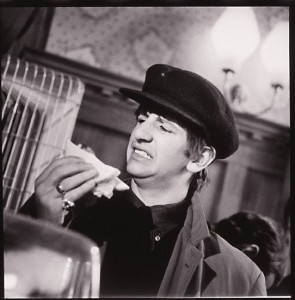 Lester's fast cutting, speeded-up camera effects and helicopter shots were a revelation to Sixties audiences and still look striking and original 50 years on. Lester's techniques began a vogue, but this is the style at its brightest and most newly minted. The film's style was unique and innovative, and went on to influence a whole generation of TV shows, music videos and movies.
Robin Ray plays the TV floor manager in his fourth and last movie role as the TV host.
Lester and the Beatles immediately followed it up with Help! (1965).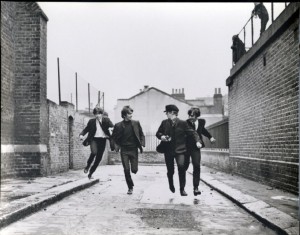 To celebrate its 50th anniversary in 2014, the film is screened again in UK cinemas in a new 4K digital restoration, approved by director Richard Lester, with newly created stereo sound supervised by sound producer Giles Martin and engineer Sam Okell at Abbey Road Studios.
© Derek Winnert 2014 Classic Movie Review 1364
Check out more reviews on http://derekwinnert.com/