A Ghost Story *** (2017, Casey Affleck, Rooney Mara, McColm Cephas Jr) – Movie Review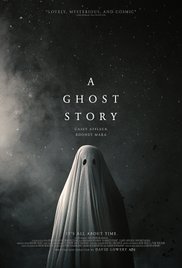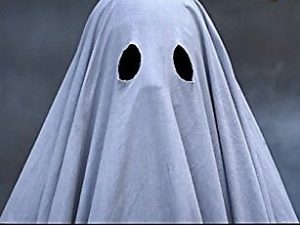 Mmmm, spooky! Pretty good movie, a few dull patches, and a bit repetitive, but overall hauntingly effective.
Mmmm, spooky!
Married couple Casey Affleck and Rooney Mara movie into their suburban dream home. Affleck is killed in a car crash but rises from dead in the mortuary and, now a white-sheeted ghost, returns to his home to try to reconnect with his bereft wife.
Writer-director David Lowery's drama, fantasy, romance horror film is a pretty good movie. There are a few dull patches, it has a sedate pace and it is a bit repetitive, but overall it is hauntingly effective. Affleck is good in the tense early scenes, exploring a rather ambiguous relationship between the couple, though his later performance is hampered by the sheet thing. Lowery assures us that it is the Oscar-winning star there, but it could be anybody. Those looking forward to seeing an Affleck movie will be disappointed.
But it is up to Mara to carry the movie, and she does, letting out her grief in her big scene gobbling down an entire pie while slumped on her kitchen floor. Earlier in the film, she firmly establishes the odd bond she has with husband Affleck, without to much screen time to do it.
Lowery's film is not a horror film at all, rather it is a study in loss and grief, showing graphically how they hit hardest at mundane moments. Exploring sudden permanent separation, it is immensely sad, distressingly and depressingly so. Life goes on but the ghosts remain.
The film is not spooky or scary at all, but just tragic. Mara eventually moves on, but Affleck can't leave even though the new owners have moved in. Ghosts are everywhere, ghosts of the mind and the movie anyway. Have you got one or more in your house or in your head? Probably you have, Lowery is saying.
Apparently it was made for $100,000, paid for from money the director made on Pete's Dragon. The film is strange but not alienating, exactly the opposite, and it is not experimental, though there aren't many films where the hero's head in covered like this, yet The Elephant Man does come to mind.
© Derek Winnert 2017 Movie Review
Check out more reviews on http://derekwinnert.com