A Connecticut Yankee in King Arthur's Court *** (1949, Bing Crosby, Rhonda Fleming, William Bendix, Cedric Hardwicke, Henry Wilcoxon, Murvyn Vye, Virginia Field) – Classic Movie Review 5941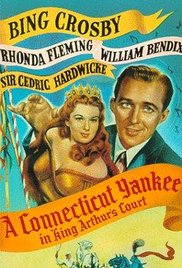 Bing Crosby plays Hank Martin, singing mechanic from 1912 who suffers a bump on the head and is sent back in time to Arthurian Britain in 528 A.D. and hailed as a wizard at King Arthur's court, in director Tay Garnett's mildly entertaining and pleasantly carefree 1948 film musical version of the Mark Twain fable novel.
Crosby may stroll through his acting performance, but he is quite the homespun charmer and certainly a wizard with the catchy songs particularly the classic 'Busy Doing Nothing', sung with William Bendix as lummox Sir Sagramore le Desirous and Cedric Hardwicke as a lordly Lord Pendragon.
Rhonda Fleming makes a good impression as the royal Alisande La Carteloise, the King's niece and the men's object of desire, and also very welcome are Henry Wilcoxon as her fiancée Sir Lancelot, Murvyn Vye as Merlin, and Virginia Field as Morgan Le Fay.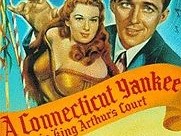 Plus Paramount Pictures throw in sumptuous sets (designed by Hans Dreier and Roland Anderson), costumes and colour (lensed by Edmund Beloin) in a near-ideal production.
Also in the cast are Joseph Vitale as Sir Logris, Richard Webb as Sir Galahad, Alan Napier as the High Executioner, Julia Faye as Lady Penelope, Mary Field, Ann Carter and Harry Wilson.
The other songs are ONCE AND FOR ALWAYS sung by Bing Crosby and Rhonda Fleming, WHEN IS SOMETIME? sung by Fleming and IF YOU STUB YOUR TOE ON THE MOON sung by Crosby and child chorus, all with music by Jimmy Van Heusen and lyrics by Johnny Burke.
In Britain it was called A Yankee in King Arthur's Court.
It has been filmed many times, and other versions include: 1920 (silent with Harry Myers), A Connecticut Yankee (1931) and A Connecticut Yankee in King Arthur's Court (1989). It runs 94 minutes but the cut version runs to 78 minutes. In the 1931 version just called A Connecticut Yankee, Will Rogers took Crosby's part of a modern American in Camelot.
Meaning of lummox = a large, ungainly and dull-witted person: 'As a rule, a knight is a lummox, and sometimes even a labrick, and hence open to pretty poor arguments.'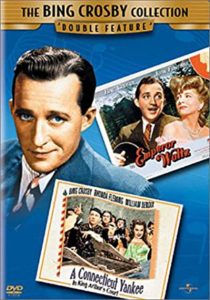 It is on a double feature DVD with The Emperor Waltz (1948).
© Derek Winnert 2017 Classic Movie Review 5941
Check out more reviews on http://derekwinnert.com