8MM [Eight Millimeter] *** (1999, Nicolas Cage, Joaquin Phoenix, James Gandolfini) – Classic Movie Review 3091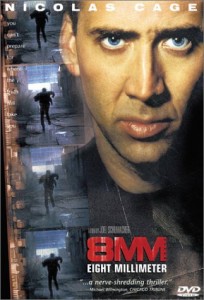 Director Joel Schumacher's 1999 thriller stars Nicolas Cage as Tom Welles, a surveillance specialist with a modest home-based business.
Welles is called in by a rich old lady and her lawyer Daniel Longdale (Anthony Heald) and hired as a private investigator to investigate a case involving a small reel of 8MM film, left in the safe of her recently departed husband. Apparently a snuff film portraying the snuff murder of a young woman six years earlier, it turns Welles's life upside down, as he tries to discover if it is authentic or not and drifts away from his wife Amy (Catherine Keneer) and child.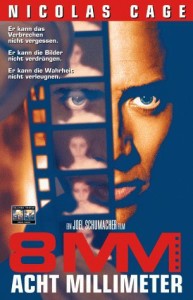 Aided by Hollywood Boulevard streetwise porn shop salesman Max California (Joaquin Phoenix), he pursues a bizarre trail of graphic and disturbing evidence, leading him to a sleazy porn agent Eddie Poole (James Gandolfini) and the wacko maker of S&M films, Dino Velvet (Peter Stormare).
Schumacher's pounding detective-mystery action-thriller, with another daring screenplay from Andrew Kevin Walker, the writer of Se7en, shares similar obsessions with the dark side and corruption by the devil. It certainly arrests the attention but gradually goes downhill as it pushes harder and crazier, finally becoming a shade too explicit and even cliched.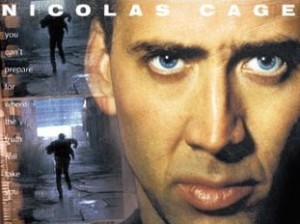 Despite a lot of good work, it isn't in the same memorable class as Se7en. But it is still gripping, fast-moving and highly watchable. Cage is excellent and Phoenix is just right in support.
Schumacher films in his usual flashy, over-confident style, with eye-catching cinematography by Robert Elswit, producing a smooth movie when perhaps something less polished and more experimental might have succeeded better.
This is very strong material, rated 18 or R for strong perverse sexuality and violence, and for strong language.
The studio was concerned about the dark subject matter and asked Andrew Kevin Walker to lighten the film's tone. Schumacher supported the studio and made changes of his own, leading to a falling out between the two, with Walker virtually disowning the film and walking away from the set. In October 2015, Walker said he was keen for a remake of his screenplay.
It was not a big hit, costing $40million, and taking $36million in the US and another £2.4million in the UK, though it went on to take $96million worldwide, thanks to a non-US box-office take of $60million.
© Derek Winnert 2015 Classic Movie Review 3091
Check out more reviews on http://derekwinnert.com