54 *** (1998, Ryan Phillippe, Salma Hayek, Neve Campbell, Mike Myers, Breckin Meyer, Sela Ward) – Classic Movie Review 5310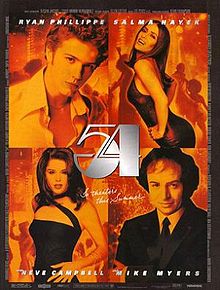 Twenty years earlier before this movie, New York's beautiful people were boogeying on down to the disco beat at the dance club to end all nightclubs – Studio 54, the world-famous New York City discotheque.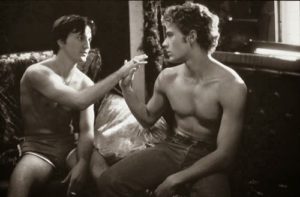 In writer-director Mark Christopher's pretty clumsy, naff and lifeless 1998 fictional drama, a nice-looking kid called Shane O'Shea (Ryan Phillippe) swaps his dull life in New Jersey for the bright lights of the big city. He gets a job as a busboy/ bartender at the disco run by Steve Rubell (Mike Myers in his first dramatic role), the club's co-founder, and takes a walk on the wild side.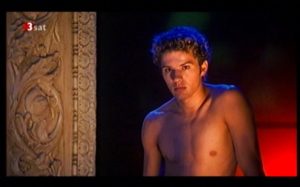 Shane befriends aspiring singer Anita (Salma Hayek) and her husband, Greg Randazzo (Breckin Meyer) but gets sucked into the hard-partying scene, on the edge of crashing and burning.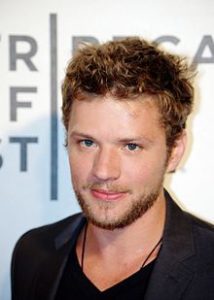 This third disco film in a year just does not know how to party. It wants to be provocative, and wallow in a sea of sweat, sparkle and sex, but doesn't seem to dare. Phillippe looks cute in shorts, but shows little acting charisma here. Myers, though, who seems to have taken acting lessons from Barry Humphreys, saves the movie in a splendid show-stopping turn as the bizarrely coiffeured, lustful, good-time gay boss. And the music is still as hot as a chilli pepper.
Before its release to poor reviews and weak box office in 1998, the film was extensively re-shot and re-cut, apparently to remove most of the gay story and all traces of Shane's bisexuality, which didn't help make it the hoped-for big hit. It cost $13 million and took $16 million at the box office.
Phillippe said: 'I've never seen this kind of editing and re-shooting on another film I've done. The characters were fundamentally changed in a way that wasn't true to the original script. Not even close.'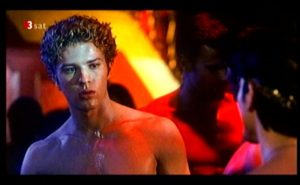 In 2008, a bootleg version of the director's cut was screened at Outfest, leading to interest for a release of this cut.
Then in 2015, Christopher and the Miramax studio premiered a new edit of the film at the Berlin International Film Festival, with 45 minutes of original material restored and 30 minutes of studio re-shoots removed.
A kiss between real-life best friends Phillippe and Meyer was one of the film's key scenes but it was judged too strong for the mass market and edited out but it is restored for the director's cut.
Phillippe said: 'There was a part of us that was a little sad nobody ever got to see it. We did something that was relatively bold for two young male actors, and we took pride in the places that the original story went. So, it's nice that people finally get to see Breckin and me kiss.'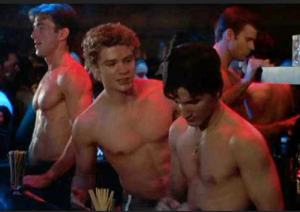 The release version is only 93 minutes long but the extended director's cut version runs 105 minutes.
Also in the film are Sherry Stringfield as Viv, Ellen Albertini Dow as Disco Dottie, Cameron Mathison as Atlanta, Naom Jenkins, Jay Goede, Patrick Taylor, Heather Matarazzo, Skipp Sudduth as Harlan O'Shea, Aemilia Robinosn, Daniel Lapine, Thelma Houston, Lauren Hutton as Liz Vangelder, Mark Ruffalo as Ricko, Michael York as Ambassador, Justin Bartha as Clubgoer, and Arthur Nascarella as an IRS Agent.
The 17-year-old Michael Pitt has an uncredited role as a Dance Student.
It follows Boogie Nights and The Last Days of Disco.
© Derek Winnert 2017 Classic Movie Review 5310
Check out more reviews on http://derekwinnert.com