42nd Street ***** (1933, Warner Baxter, Ruby Keeler, Bebe Daniels, George Brent, Una Merkel, Guy Kibbee, Dick Powell, Ginger Rogers) – Classic Movie Review 3057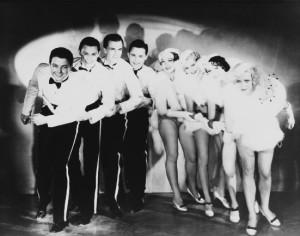 Director Lloyd Bacon's 1933 movie virtually created, certainly established for all time the clichés of the backstage musical genre. Despite its great, venerable age, 42nd Street is still faster, funnier and brighter – and simply just plain better – than anything that has come after.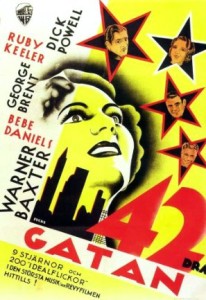 As it's a show, it is vital that there are scintillating performances, and there are glorious iconic turns, particularly by Warner Baxter, Ruby Keeler, Bebe Daniels, George Brent, Una Merkel, Guy Kibbee, Dick Powell, Ned Sparks, George S Stone, Allen Jenkins and a young Ginger Rogers as Anytime Annie. Thanks to these players and the scintillating Warner Bros production, you can just smell the theatrical sweat and greasepaint.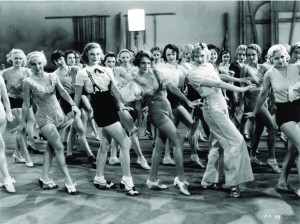 'Sawyer, you're going out a youngster but you've got to come back a star,' hard task-master Broadway impresario Julian Marsh (Baxter) famously shouts to Peggy (Keeler), the chorus girl he's just promoted when difficult leading lady Dorothy Brock (Daniels) hurts her ankle and can't go on but his new show Pretty Lady has to. Apparently, she's taken the showbiz advice to 'break a leg' too literally.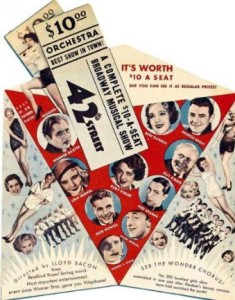 42nd Street would work really well even without the musical numbers. But, when they come all in an exhilarating rush at the end, they are the delicious icing on the richest and tastiest of cakes. The Al Dubin-Harry Warren numbers are superlative (and the duo also appear in the film as themselves). Those great vintage songs are '42nd Street', 'Shuffle off to Buffalo', 'Young and Healthy' and 'You're Getting to Be a Habit with Me', every one a winner. And, above all, Busby Berkeley's amazing choreography of the numbers filmed in his trail-blazing overhead camera shots takes the breath away.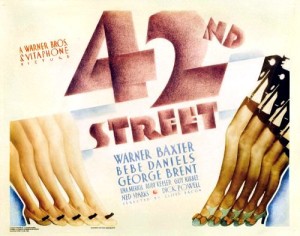 With Busby Berkeley rediscovered and the soundtrack album a chart hit again in the early 80s, they recreated the movie as a Broadway stage musical. But this theatre version of the show, though a long-running hit, isn't half as good as the movie.
James Seymour and Rian James provide the screenplay from the original story by Bradford Ropes and wrap it all up in just 89 fast-moving minutes.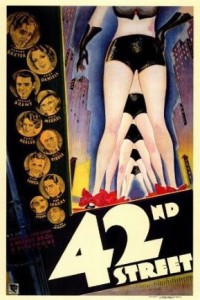 Also in the cast are Robert McWade, Eddie Nugent, Henry B Walthall, Wallis Clark, Jack LaRue, Louise Beavers, Dave O'Brien, Patricia Ellis, George Irving, Charles Lane, Milton Kibbee, Rolfe Sedan and Harry Seymour.
It was Oscar nominated for Best Picture and Best Sound, but didn't win.
Gold Diggers of 1933 ***** (1933, Warren William, Joan Blondell, Aline MacMahon Ruby Keeler, Dick Powell, Guy Kibbee, Ned Sparks, Ginger Rogers) – Classic Movie Review 5892
© Derek Winnert 2015 Classic Movie Review 3057
Check out more reviews on http://derekwinnert.com