42 – Film Review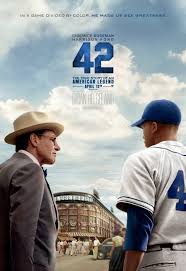 Writer-director Brian Helgeland's old-fashioned biopic of Jackie Robinson, who made history as the first black man in the US baseball Major League, is incredibly well meaning and good hearted. Stirring and inspiring, it raises the spirits enormously with its story of triumph over adversity and prejudice.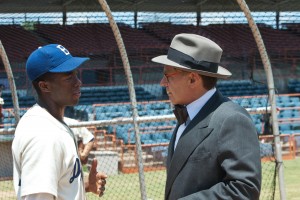 It's a story folks in the UK don't know much about, and its success is that makes it seem like it's something we should know and care about. However, there's a price to pay for this. It all may have been really like Helgeland shows us here, but his screenplay does seem to bland out the issues and characters. I've a feeling life must have a been a lot tougher for Robinson than this suggests.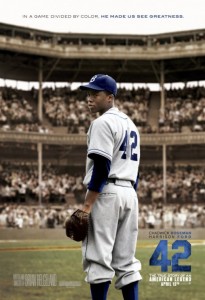 Without enough real edge, and lacking the necessary feeling of fear and hardship and steely resolve that seems necessary, 42 goes the populist route that risks seeming a simplified, sanitised take on the real story. So it feels like the Disney version, though that does also mean that it's warm, generous and beautifully crafted – and determinedly on the right side of things.

Not used to playing old bloke character roles, a scarily ancient-looking Harrison Ford is entirely effective, if slightly hammy and a little one-note, in the star character part of the Brooklyn Dodgers team boss Branch Rickey. He's a canny business man but also a man of astonishing principle for the time, who decides to go against prevailing wisdom in 1947 and take Robinson on his team. This upsets the complaisant, racist apple cart, big time and forever. So good.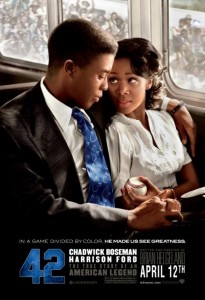 Ford plays it woolly and cuddly, not nearly crusty and difficult enough, coming over as quite a bit too likeable and heroic. But you imagine this character must have had steel in his soul, and the actor doesn't simply want to play him like that.
Chadwick Boseman is very handsome, athletic and perfect as Robinson. But why couldn't he be more complex and more real seeming, with some rough edges, rather than this impossibly saintly character? That would have given Boseman the acting stretch he looks up for.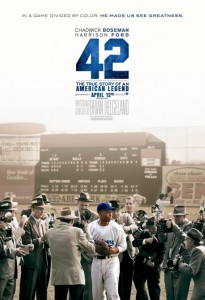 Maybe the real Robinson was saintly like this, turning the other cheek permanently as instructed to do by his new boss. Like Robinson, Boseman does what he's asked exceptionally well, however, and he's really very good in the role indeed.
I know it's a man's movie, but the largish role for Robinson's wife Rachel (Nicole Beharie) is hopelessly thinly written. There are a lot of shots of her just watching her husband, either smiling or looking worried. That's the entire role. Not good enough, people!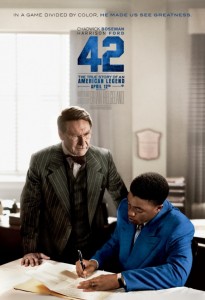 Too much of it is written and directed in a simple good versus bad way, and it often runs a bit like an up-market TV movie for the Disney Channel. There's an incredibly handsome period production with good reconstructions and lots of lovely old cars, buses and buildings, but that's not really the point, is it? It would be more convincing if it all wasn't quite so glossy, perhaps filmed in grainy black and white or sepia, or even made as a film noir.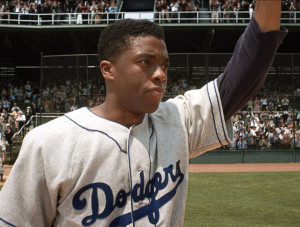 I guess not too many people are interested in baseball in the UK, but they're not wasting their time releasing it. It is an important reminder of what a sick society the land of the brave and the free was just after the WW2, with racism and segregation approved of and even officially sanctioned.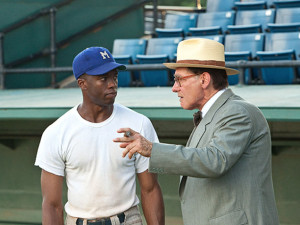 There's nothing bad here at all. Far from it. In fact it's all good as far it goes. But it doesn't go far enough and this is a slight disappointment from Brian Helgeland, the talented man who wrote LA Confidential, Payback, Mystic River and Man on Fire. If only he'd brought the tough edge and hard centre that they have to this movie too, it would be a gem. As it is, he gets a little bogged down in the emotional swirls and drifts that such a truly heroic story inevitably provides. But it's a worthy, worthwhile movie for all that.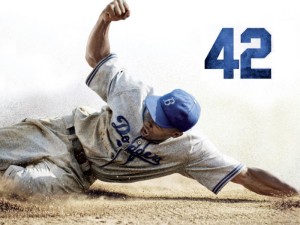 Let's hope that 42 doesn't get entirely lost in the rush of new releases. Despite its shortcomings, it's got something important to say and it says it honourably and entertainingly, if not provocatively.
(C) Derek Winnert 2013 derekwinnert.com